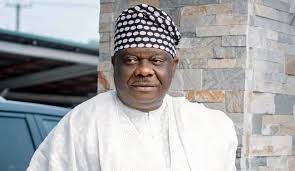 Share this
A former Minister of Justice and Attorney General of the Federation, Michael Aondoakaa, has criticized the Independent National Electoral Commission (INEC) for declaring the All Progressives Congress (APC) candidate, Bola Ahmed Tinubu, as the winner of the 2023 presidential election.
Aondoakaa pointed out that this declaration was illegal, as Tinubu failed to meet the constitutionally required 25% of votes in the Federal Capital Territory.
The senior advocate of Nigeria said this when he appeared on Arise TV at the weekend to discuss the outcome of the presidential and national assembly elections, mentioning that in a similar case in 2008, the Supreme Court interpreted the word "And" conjunctively making it a mandatory requirement for anyone aspiring to be the President of the Federation.
According to him, the law has not changed since then when the case was decided, adding that it will be incumbent on the apex court to re-interpret that section of the Constitution again. In his words "the Supreme Court has a right to defeat their previous decision or stand it according to the doctrine of Stare Decisis".
INEC on Wednesday went on to declare the APC candidate, Bola Ahmed Tinubu winner of the 2023 presidential election despite the outcry of Nigerians over alleged massive rigging of the electoral process.
The former minister of justice said that the electoral umpire violated its own guidelines failing to upload results of the election from the polling units directly to its server.
"The Supreme Court is conscious about a party following its own guidelines and how much more INEC whose guidelines have a Constitutional Flavour," the learned silk said.
"They will need to have a good reason to be told to the tribunals why they deviated from their guidelines and they must justify that deviating from those guidelines did not invalidate the results," he said.
He said the electoral umpire decided to change the goalpost in the middle of the game, insisting that this will be a serious issue to justify.