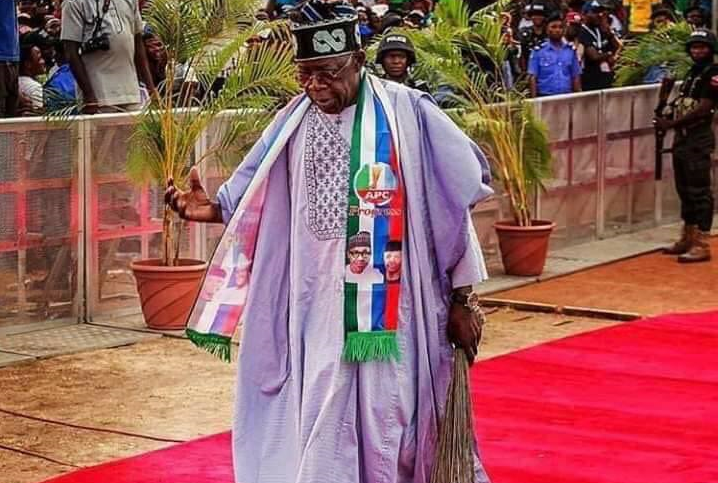 Share this
The National Chairman of the All Progressives Congress, Abdullahi Adamu, has said the party is not happy with the outburst of one of its presidential aspirants, Bola Ahmed Tinubu in Abeokuta, last Thursday, June 2.
While speaking to jounalists at the APC National Secretariat in Abuja on Saturday, June 4th, Adamu said Tinubu may be sanctioned.
"We may punish him (Tinubu) for his utterances against the President.

He (Tinubu) went as far as saying how Gen. Muhammadu Buhari went to him, citing instances of even prostrating in tears begging him to endorse him and to support him for the presidency. He claimed Buhari went to him.

Though he is the president, he belongs to everybody. It is amazing how a fellow APC person would make that kind of comment in that kind of circumstances about the president. We take exception to this. It has shown that he does not show any appreciable level of respect for the office of Mr President.

Therefore we want to make it public that we are saddened what we saw in the video, in that reportàge and we condemn it in the strongest of terms.

We do hope that he would never say that kind of again, particularly of the APC extraction to make such kinds of comments.

Yes, yesterday we saw some part of a retraction but that effort is not adequate. It is not sincere. It is not in-depth enough. It doesn't wipe out the impression that that event has left in our minds."Adamu said
Recall that Tinubu was campaigning in Abeokuta when he said he deserves to lead the election after helping President Buhari win the 2015 election. Many viewed his speech as disrespectful to the President.
However in a statement released on Friday, June 3, Tinubu maintained that he holds President Buhari in high regard. He said his comments were not meant to disrespect the President and had been taken out of context.
The former Lagos State Governor said reactions suggesting he had been disrespectful were sensational and incorrect.