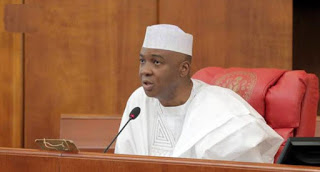 Share this
The Former Senate President Bukola Saraki, has said that the party, APC is a Yahoo Yahoo party because it has failed in delivering it's promises. He further Stated that Nigeria needs a President with enough energy to move around the country and personally get first-hand information about various challenges plaguing the country, and not one who would solely rely on his aides to run the country.
Saraki said this during a visit to the leadership of the Peoples Democratic Party PDP in Abia State to canvass support for his presidential ambition.
Represented byformer Senate Minority Leader, Senator Suleiman Adokwe from Nasarawa State, Saraki accused the ruling All Progressive Congress, APC of taking Nigeria 50 years backwards from the pedestal PDP placed the country in 2015.
" APC is Yahoo Yahoo party because it has not fulfilled any of its promises. It's All Peoples Confusion. Before, we thought it is safe to fly but of late our airports are no longer safe. The railways PDP started building are now being bombed here and there.
PDP needs to return to power to complete the good job it started before APC came and plunged Nigeria into darkness."he said
Saraki said that PDP should not place emphasis on zoning but fielding a candidate with the competence, capacity, and national appeal to disloge APC in 2023.
"Saraki is a de- tribalised and true Nigeria. He is a moderate Muslim and his wife is a Christian. Some of his children are Muslims and some Christians. He is not a religious bigot. He is under 60 years and has the strength to move around the country and see things for himself not waiting for lies his lieutenants.

Now we have a President that cannot move round but depends on his aides. Even when he is told of the problem, he lacks the intellectual capacity to deal with it."