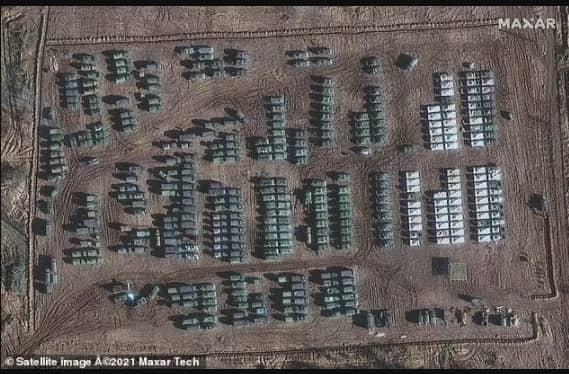 Share this
Russia is reportedly planning a possible military invasion of Ukraine involving an estimated 175,000 troops that could begin as soon as early 2022.
An unclassified intelligence document, obtained The Washington Post, showed satellite images of troop and equipment build-up around the border with Ukraine.
Russia is planning an invasion of Ukraine early next year with up to 175,000 troops – US intelligence
Photos taken in June around Yelnya, near the northern border between Russia, Ukraine, and Belarus, showed empty land. By November 9, five Battalion Tactical Groups (BTGs) were in place, the photos showed.
Russia is planning an invasion of Ukraine early next year with up to 175,000 troops – US intelligence
In 2014, similar scenes were replicated along the Russian-Ukrainian border near Crimea before Russia seized the strategic port on the Black Sea.
'The Russian plans call for a military offensive against Ukraine as soon as early 2022 with a scale of forces twice what we saw this past spring during Russia's snap exercise near Ukraine's borders,' an administration official told the paper.
'The plans involve extensive movement of 100 battalion tactical groups with an estimated 175,000 personnel, along with armor, artillery and equipment.'
Ukrainian assessments have said Russia has approximately 94,000 troops near the border, but the U.S. believes the figure is closer to 70,000.
However, US officials expect an increase to 175,000, and warn that there will likely be significant movement of battalion tactical groups to and from the border 'to obfuscate intentions and to create uncertainty.'
'Equipment may be left behind at different training ranges to enable a rapid, final buildup,' the document adds.
Leaving the White House for Camp David, President Joe Biden said: 'We've been aware of Russia's actions for a long time and my expectation is we're going to have a long discussion.'
On Thursday, Secretary of State Anthony Blinken met his Russian counterpart, Sergei Lavrov.
Blinken warned Moscow of the 'severe costs' Russia would pay if it invaded Ukraine, urging his Russian counterpart on Thursday to seek a diplomatic exit from the crisis.
Blinken delivered the warning to the Russian Foreign Minister at what he called a 'candid' meeting in Stockholm, and said it was likely that Biden and Vladimir Putin would speak soon.
'I made very clear our deep concerns and our resolve to hold Russia responsible for its actions, including our commitment to work with European allies to impose severe costs and consequences on Russia if it takes further aggressive action against Ukraine,' Blinken told a news conference after the meeting.
'It's now on Russia to de-escalate the current tensions reversing the recent troop buildup, returning forces to normal peacetime positions and refraining from further intimidation and attempts to destabilize Ukraine.'
Lavrov, speaking to reporters before his talks with Blinken, said Moscow was ready for dialogue with Kyiv.
'We, as President Putin has stated, do not want any conflicts,' he said.
Blinken, before the meeting, stated: 'We don't know whether President Putin has made the decision to invade.
'We do know that he is putting in place the capacity to do so on short order should he so decide.
'We must prepare for all contingencies.'
The new intelligence finding, published on Friday, estimates that half of the Russian personel are already deployed along various points near Ukraine's border, according to a Biden administration official who spoke to Associated Press.