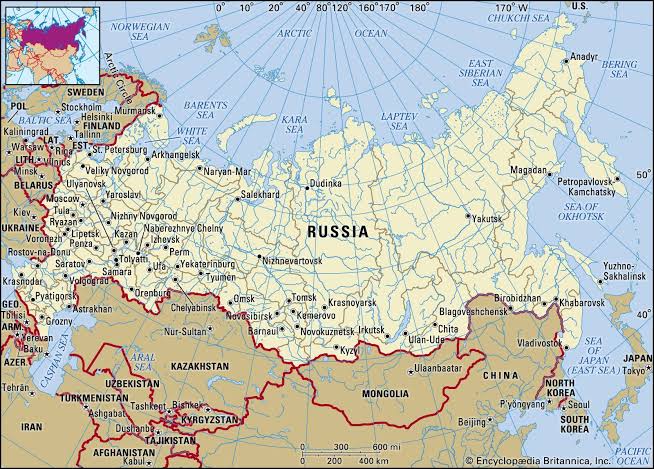 Share this
The Russia's foreign minister has warned that NATO is now fighting war with Russia in Ukraine and there is a 'very serious' risk the conflict could turn nuclear.
Sergei Lavrov, speaking on Russian state TV last night, accused western leaders of risking a third world war bysupplying heavy weapons to Ukraine with the goal of 'wearing down the Russian army,' an aim he described as an 'illusion'.
Accusing NATO and its allies of attempting to bully Russia on the international stage, Lavrov said that tensions between east and west are now worse than during the Cuban missile crisis at the height of the Cold War.
Asked about the possibility of a nuclear war, he replied: 'The risks are very significant. I do not want the danger to be artificially inflated [but] it is serious, real. It cannot be underestimated.'
Lavrov said: 'During the Cuban Missile Crisis there were not many "written" rules. But the rules of conduct were clear enough.
'Moscow understood how Washington was behaving. Washington understood how Moscow was behaving. Now there are few rules left.
He added: 'In those years, there was a channel of communication that both leaders trusted. Now there is no such channel. Nobody is trying to create it.'
Lavrov also repeated warnings that shipments of western weapons into Ukraine will be considered legitimate targets Russia a day after missiles struck the country's train network in an apparent attempt to stop the deliveries.
The move comes in response to calls from Kyiv to provide its armed forces with the means to recapture territory occupied Russian forces, in the wake of atrocities carried out Putin's men in places such as Bucha and Irpin.
US Secretary of State Antony Blinken and Defense Secretary Lloyd Austin travelled to Kyiv on Sunday for a face-to-face meeting with President Zelensky to discuss supplies, before pledging another multi-million dollar shipment.
Austin will also chair a meeting of more than 40 defence ministers at Ramstein air base in Germany today, aimed at securing additional supplies and coordinating efforts between allies to ensure Ukraine has everything it needs.
Ahead of the meeting, Austin stated the goal is to ensure Ukraine 'can win' the war against Russia and 'weaken' the country to the point where it cannot repeat its invasion a second time.
Ahead of the meeting, German media reported that the country will end weeks of dithering and agree to supply heavy arms to Ukraine in the form of 50 Gepard anti-aircraft systems.
Ukraine's Foreign Minister Dmytro Kuleba said on Monday night that he regards Russia's scaremongering as a sign of weakness.
Russia had lost its 'last hope to scare the world off supporting Ukraine,' Kuleba wrote on Twitter after Lavrov's interview. 'This only means Moscow senses defeat.'
British armed forces minister James Heappey agreed with that assessment today, saying he does not see an imminent threat of escalation in Ukraine and dismissing Lavrov's comments as 'bravado'.
'Lavrov's trademark over the course of 15 years or so that he has been the Russian foreign secretary has been that sort of bravado. I don't think that right now there is an imminent threat of escalation,' Heappey told BBC Television.
'What the West is doing to support its allies in Ukraine is very well calibrated … Everything we do is calibrated to avoid direct confrontation with Russia.'