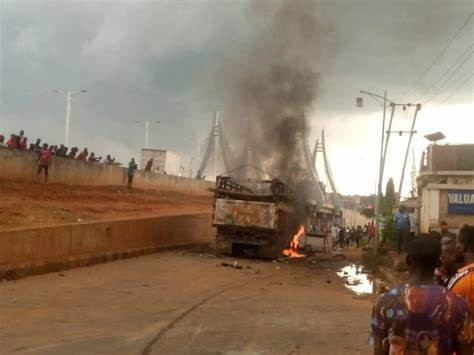 Share this
Nigeria police has confirmed that a truckload of cows was set on fire along Ezinifite-Uga expressway in Aguata Local Government Area of Anambra State.
The incident happened at about 8 a.m on Sunday May 8. Police spokesperson in the state, Tochukwu Ikenga confirmed the attack in a statement, adding that one suspect has been arrested in connection with the attack.
Mr Ikenga said one Mohammed Lawan who was conveying the cattle, was rescued the police alongside other occupants. He also revealed that only the front of the truck was affected.
Lawan was conveying the livestock to Awarasi, Uga in the council area. Ikenga said;
"The command has rescued one Mohammed Lawan of Taraba State livestock within Ezinifite and Uga expressway. The rescue was following a distress call today, May 8, at about 8 a.m. of suspected arson and cruelty to animals gunmen"
Police operatives have been deployed to the area and normalcy has been restored in the troubled community.