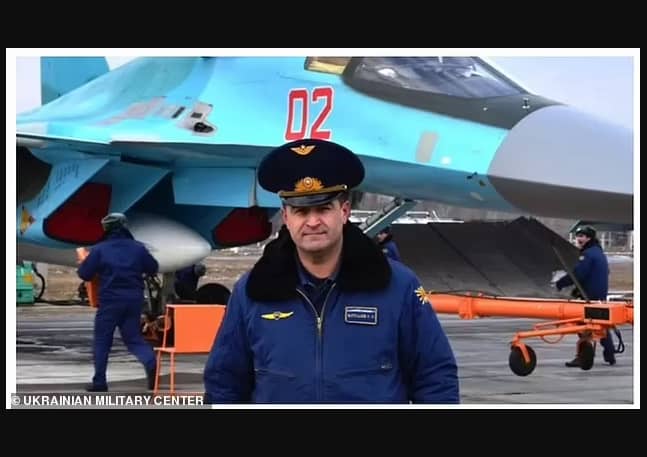 Share this
A Russian Air Force Major General has been killed Ukrainian forces, making him the highest-ranking fighter pilot to die in the war in Ukraine.
Maj. Gen. Kanamat Botashev, 63, became the 13th general to die in Ukraine when he was hit a Stinger missile while flying over the Luhansk region on Sunday, sources told BBC Russia.
Botashev, 63, had been enjoying retirement when Russian tanks rolled across the border on February 24 and had not flown since 2012.
His Su-25 fighter jet was hit a Stinger missile at around 8:25am on Sunday morning in the Donbas skies, and he was unable to eject.
The General Staff of the Armed Forces of Ukraine reported an Su-25 had been downed in Luhansk, and one of Botashev's former colleagues confirmed his death to BBC Russian Service.
Botashev's former colleague told the BBC that 'he simply could not stay away' when offered a chance to fly, but the loss of such a high-ranking, elderly general suggests the Russian air force does not have enough pilots capable of conducting sorties over Ukraine.
The retiree is the 10th Russian general believed to have died already in Ukraine, while more than 40 colonels have been killed in bloody fighting.
The Land Forces of Ukraine meanwhile declared in its latest count on Friday that 204 Russian planes have been destroyed over Ukrainian skies.
News of Botashev's death broke yesterday on several pro-war Telegram channels, but many of the posts were removed administrators.
One post reported the general's death and described how his plane was first damaged a missile, but was then blasted out of the sky a Stinger.
'Kanamat died today! Popasnaya district, 8:25… first the plane was hit (a missile), secondly, bombs – Stinger, at the exit of the attack.
'There was an explosion in the air and… That's it.'
One user posted a tribute to the slain general in the Russian Telegram channel Fighterbomber but this was also removed.
'Farewell, commander… There are few people on this planet who lived in the sky as much as you do. The sky takes the best, today it took you,' the post read, according to the BBC.
Born in 1959 in Karachay-Cherkessia, Botashev graduated from the Yeysk Higher Military Aviation Institute and quickly established himself as an excellent pilot, qualifying as a fighter-bomber and rising rapidly through the ranks.
Botashev commanded a regiment of the Guards Air Base in Voronezh, a Russian city located roughly 300 miles south of Moscow.