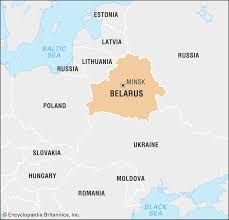 Share this
Belarus special forces are reportedly preparing for air assault on the Ukrainian capital, Kyiv,
Today, according to the Daily Mirror, Ukrainian intelligence has learned from within Belarus that "special ops" troops have been spotted loading up planes for a major attack.
"If this happens it will mean Belarus has openly joined Russia in its invasion of sovereign Ukraine.
"We believe they are being targeted at Kyiv and Zhytomir," a senior Ukrainian source revealed.
It was further revealed that, a large number of Moscow's elite Spetsnaz troops were on so-called "exercises" with their Belarus counterparts, for weeks during the Russian build-up.
It was also said that it appears that Belarus, having allowed missiles to be fired from within its territory at stricken Ukraine, is about to join the battle.
Ukraine's military confirmed the country's Border Guard troops fighting close to the northern border spotted four Iliushin 76 air-lift warplanes heading for Kyiv or Chernigiv, noting that the planes were loaded up with Belarus special operations troops.
It came as Ukrainian sources confirmed Russia's mounting losses during the invasion in which Kyiv's troops and citizens are fighting back with ferocity.
Bytoday (Monday) Russia has lost 4,300 troops in fighting.
The revelation comes hours after Ukraine turned down talks with Moscow after Putin sent a diplomatic delegation to the country, saying Belarus is "complicit" in the invasion.
Ukrainian President Volodymyr Zelensky had earlier said on his Telegram channel he had spoken with Belarus' leader Alexander Lukashenko, after Kyiv had rejected talks in Belarus amid accusations of allowing Russian troops through its territory.