Share this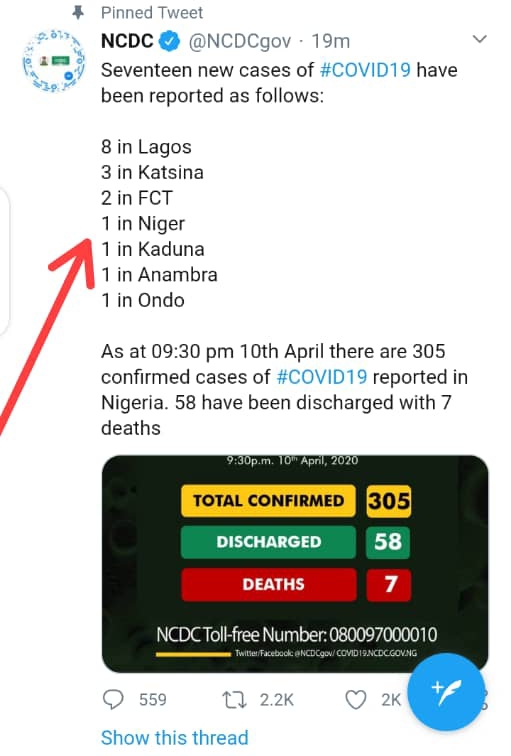 About few minutes ago today Friday 10th April 2020, NCDC on their verified Twitter handle announced seventeen new cases of coronavirus also known as covid-19. The NCDC tweet made it public the new states involved and the numbers of confirmed cases. Remember that in our(IAMBEST TV) previous interview with the Local Government Chairman Suleja, Hon Abdullahi S. Maje, he said there were several contacts who were in isolation and waiting for results. Although few weeks ago, there were rumours of people found positive before now but the news was not verified then.
The announcement NCDC today cleared the air about the first positive case in Niger State which is on record with NCDC. Reports from genuine sources who pleaded to be anonymous after our correspondent had a chat with them said this confirmed case is from Suleja Niger State, although the full name and personal details wasn't revealed to us.
See the tweet below from NCDC:
Seventeen new cases of #COVID19 have been reported as follows:
8 in Lagos
3 in Katsina
2 in FCT
1 in Niger
1 in Kaduna
1 in Anambra
1 in Ondo
As at 09:30 pm 10th April there are 305 confirmed cases of #COVID19 reported in Nigeria. 58 have been discharged with 7 deaths.