Share this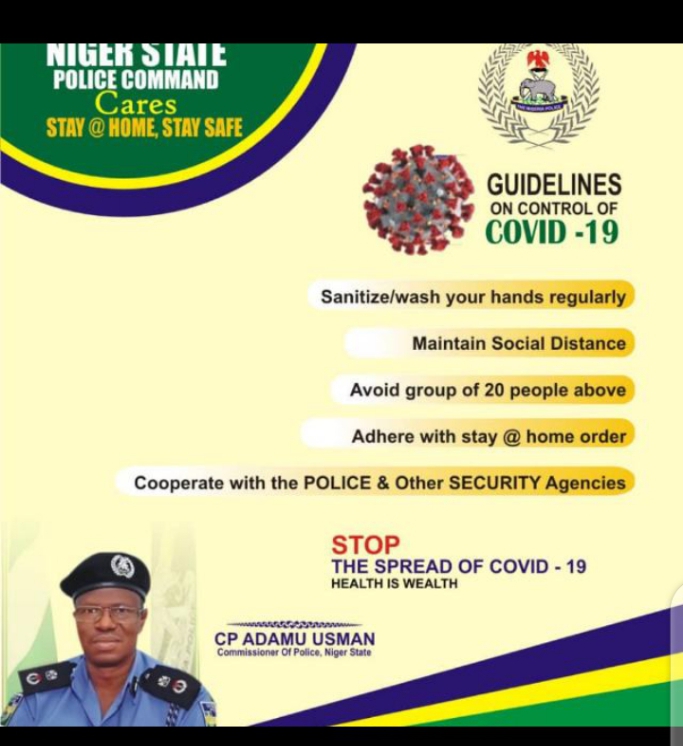 The Niger State commissioner of police on Monday 6th April 2020 issued a statement reenforcing movement restriction and strict adherence as instructed the executive Governor of Niger State. The statement added that any one who violates the law shall be dealt with seriously according to the law. The statement reads thus;
6th April, 2020
Press Release
RE: ENFORCEMENT OF SOCIAL RESTRICTION ORDER.
CP NIGER WARNS NIGERLITES AGAINST VIOLATION OF SOCIAL RESTRICTION ORDER.
Furtherance to the Niger State Government directive on the recent review of the social restriction order to have been relaxed in the State from 2.00pm to 10.00pm beginning from Sunday, 5th April, 2020 and the pronouncement of "NIGER STATE COVID 19 (PREVENTION, CONTAINMENT AND EMERGENCY) ORDER 2020" His Excellency the Executive Governor of Niger State.
Niger State Police Command herewarns the members of the public to fully comply with the new restriction order between 2.00pm to 10.00pm in the interest of public safety and anyone who violates this order shall be dealt with in accordance with NIGER STATE COVID-19 ORDER 2020 Section 17 Sub-Section (2).
The Commissioner of Police, CP Adamu Usman enjoins the members of the public to cooperate with the Police and other security agencies in enforcing the order towards curbing the spread of Corona Virus (COVID-19) in our dear State.
For any complaint, call the following numbers:
08032233454
08081777498
07031964389
ASP WASIU A. ABIODUN,
POLICE PUBLIC RELATIONS OFFICER,
FOR COMMISSIONER OF POLICE,
NIGER STATE COMMAND.