Share this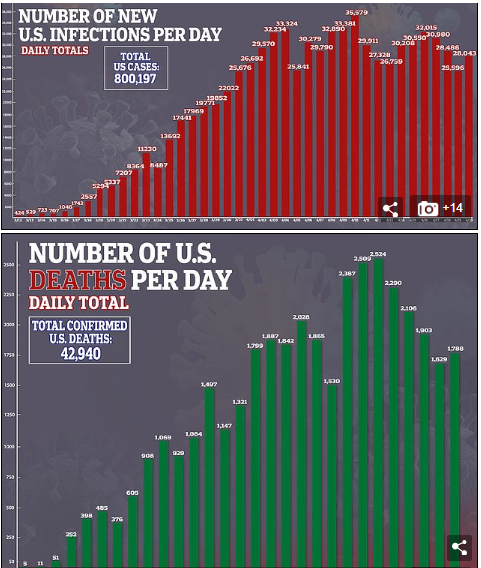 Confirmed cases of Coronavirus in the US have surpassed 800,000 after more than 29,000 people tested positive for disease in 24 hours. 
According to new figures from Johns Hopkins University monitoring the ongoing outbreak of coronavirus, in the last 24 hours, there has been an increase of nearly 30,000 new cases in the US, and 1,080 deaths from the virus, bringing the US death toll up to 42,940, the highest in the world.
This comes after Tedros Adhanom Ghebreyesus, the director-general of the World Health Organization warned on Monday that the worst is still to come.
'Trust us. The worst is yet ahead of us,' Ghebreyesus said during a news briefing. 'Let's prevent this tragedy. It's a virus that many people still don't understand.
'Please let's consider those who are dying as individuals, they are not numbers or figures. Even one life is precious,' Ghebreyesus added.
In total, there are 800, 197 confirmed cases of coronavirus in the US and 42,940 deaths.