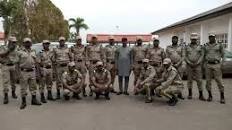 Share this
According to reports, it's been stated that the Governors of South East region have said the zone's joint Security outfit known as Ebubeagu was not formed to confront the Indigenous People of Biafra(IPOB) or it's Security arm, Eastern Security Network (ESN).

The statement the South Eastern governor's forum comes after the killing of ESN commander Ikonson in April the Nigerian military which led to IPOB leader, Mazi Nnamdi Kanu alleging that Ebube Agu works with the DSS and their aim is to track and destroy the ESN.

While distributing 40 Siena buses and 20 Hilux Vans to members of Ebubeagu on Friday, April 30, Chairman of the South East Governors forum and Governor of Ebonyi state, David Umahi said the outfit was not created to fight the IPOB and ESN"

"Ebube Agu is not after the Eastern Security Network (ESN) or after IPOB, no. Ebube Agu is meant to protect the people of Ebonyi State and her visitors," he said.

"I have asked every citizen of Ebonyi State to protect themselves against any killing, no Ebonyi person should be killed again anybody for any reason.

"We will not take the killing of any Ebonyi person lightly any longer. We have not deployed our Ebube Agu. The social media is saying we have deployed, we merely said this is the uniform we are preparing."

He said that the formation of Ebubeagu became imperative in order to complement the police and other conventional security agencies in protecting the lives and properties of the people.

The South East region has been experiencing violence and high crime rates for some time now.