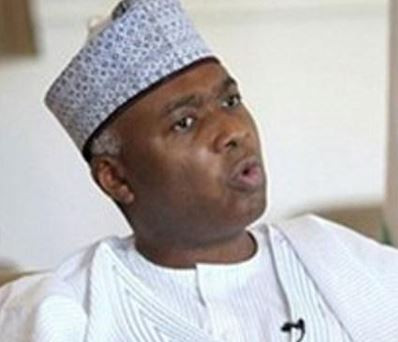 Share this
The Economic and Financial Crimes Commission says it has plans to arraign the former Senate President, Bukola Saraki, for alleged money laundering and looting of the Kwara State coffers during his administration of the state between 2003 and 2011.
According to reports, the plan to earlier arraign Saraki was frustrated the restraining order granted against the EFCC Justice Taiwo Taiwo of the Federal High Court, Abuja.
Saraki had filed a fundamental human rights suit before Justice Taiwo who granted an ex parte order restraining the commission and five other agencies of the Federal Government from continuing its investigations of corruption allegations against him, but a senior EFCC operative revealed that "Saraki's arraignment cannot be stopped any court order," noting that  the commission had strongly protested against the restraining order to the Chief Judge of the Federal High Court, Justice Abdul Kafarati.
The source said, "We have already protested against the restraining order to the Chief Judge. We will not waste time in arraigning the former senate president once the order granted Justice Taiwo is vacated and the case is transferred to a different judge. Saraki will have his day in court soon; nothing can stop it."
The commission in a statement on Sunday its acting spokesman, Tony Orilade, also said that investigation of Saraki's stewardship as a former Senate President and former governor of Kwara State had nothing to do with the non-confirmation of Mr. Ibrahim Magu as the substantive chairman of the EFCC.
The EFCC said this in reaction to a report stating that Magu sought Saraki's assistance for his Senate confirmation in 2016. The agency explained that the probe against Saraki had nothing to do with "the weighty allegations of financial fraud trailing his eight years stewardship in Kwara State and leadership of the Senate."
The statement read,
"We wish to state without any contradiction that Saraki and his co-travellers will surely have their day in court shortly.

Let it be stated in unequivocal terms that the investigation of Saraki's stewardship, whether as a former Senate President or as a former governor of Kwara State, has absolutely nothing to do with the non-confirmation of Magu as the substantive chairman of the EFCC."