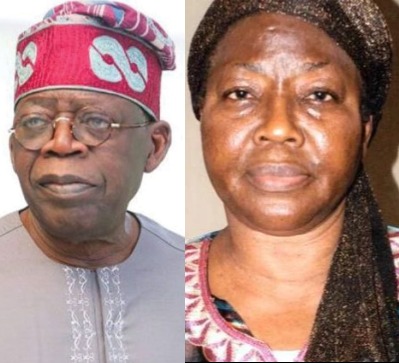 Share this
A former deputy governor of Lagos State, Alhaja Sinatu Ojikutu, says she is currently in the process of renouncing her Nigerian citizenship following the emergence of Bola Tinubu as the President-elect.
Ojikutu who was deputy governor to Michael Otedola between 1992 to 1993 disclosed this during a process conference in her Lagos residence.
According to her, she has been humiliated and ostracised because of her lingering battle with the former Lagos state governor as well as her views on the 2023 general election.
"Before the results of the presidential elections were declared, I came out to say that if Bola Tinubu won the election, I would renounce my citizenship in Nigeria and I have my reasons. When he won, people called me and said he would not do anything bad. But I am endangered the current situation. I have been ostracised and humiliated in places where I should be honoured because of his not being at peace with me.
I will not hold a Nigerian passport with Bola Tinubu as President. I am praying to God to give me the nation I can go to. I am not going to America or the United Kingdom. I want a simple place where I (can) stay and live for the rest of my life. I don't know where I am going but I have already given it to the lawyers to please see where I can get the citizenship. I am working on it seriously before May 29."
She said she is of the view that it was the turn of the South East to take over the presidency in 2023.
''I am one of those who believed that it is the turn of the South-East to get the presidency. If we say we want to remain one of Nigeria, then we have to consider equity. You can't say there is one Nigeria while suppressing a particular zone from getting to the number one shot.
"Many people know that with the records of the All Progressives Congress, APC, in eight years and the Peoples Democratic Party, PDP, in the years before; somebody who is not compromised, who is not part of the corruption, will find it difficult to vote for both parties. That is being sincere."
Ojikutu said all efforts to resolve the differences she had with Tinubu since she was made a Commissioner representing Lagos State at the Federal Character Commission had been unsuccessful.
While lamenting over the state of the nation, she said she is no longer proud to be a former public office holder.
"The National Assembly system is too expensive for Nigeria. The natural resources of this nation are enough for every man if it is well managed. I am ashamed to call myself a public officer because I cannot see all my sacrifices. And some people will boast of their political status as excellency. Excellency over a nation like this?
People who have served this nation faithfully are unhappy at the turn up of events. There are so many people on the streets who are hungry and everything that was supposed to be put in place has not been put in place."she said
She stated that those who are not satisfied with the outcome of the elections have a right to challenge it in court. She expressed disappointment at the various attempts some individuals to label those challenging the electioneering process as people committing a treasonable offence.