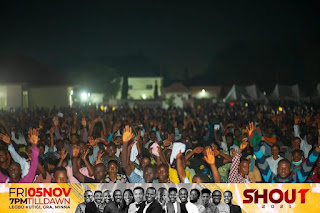 Share this
Shhhhhooooouuuuuttttt!!!!!!!!!Shout is an annual Gospel Concert hosted in Minna usually in November hosted House on the Rock Minna under the leadership of Pastor Petrock Sadiq, it features word , worship and prayer, It is also a platform to raise an altar of prayer for Nigeria.
This year's Shout Concert witnessed thousands of attendees, from all across the world. It also featured some A list gospel artists like; Moses Bliss, Onos Ariyo, Joel Abbah , Dr Joe, David Dam, Folabi Nuel , Philip Adzale (Ghana), Beejay Da Boss ,Owie Abutu and Austin Aminu ( winner JIA music).
Pastor Petrock during his bible teaching emphasized the need to do away with the Spirit of fear, He also added that fear does not come from God.
Apostle Joshua Selman further took a bible teaching on Faith, He said Fear should be replaced with Faith.
During the press Conference hosted just before the concert , Pastor Petrock when asked what to expect from shout he said "Greater".Joel Abbah when asked how he got inspirations to write his song, He said " The best of my songs were never written , the just came to me while I was doing one thing or another and were inspired the Holy Spirit".
Beejay when asked what the role of the church was in the entertainment industry responded saying " The church helps in keeping good character in check as it aids good decision making, he added that once you remember where you are coming from you would be careful the decisions you make, He also added to Fab, that he is grateful for the gift of men of God like Pastor Petrock who sponsor events buying tickets".
Philip Adzale from Ghana was asked what perspective of the church in Nigeria he would replicate in Ghana , He said the hunger and honour.
Speaking to some Participants they expressed joy and satisfaction at how beautiful the event was and Guess what they are already looking forward to next years concert, it was all round a successful and glorious event.
Even more beautiful photos from the event below: