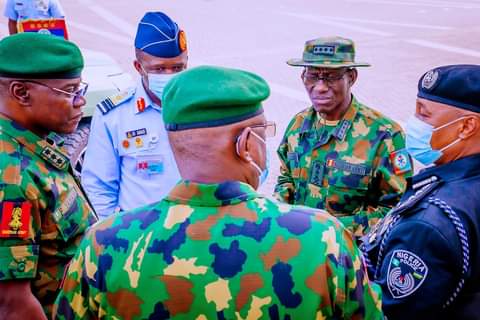 Share this
Chief of Army Staff, Faruk Yahaya has expressed commitment of the Nigerian army to deal with all forms of insecurity confronting the country.
Speaking at a one-day seminar on 'Intensifying Warrior Ethos' organised the army headquarters department of transformation and innovation on Tuesday April 5, the COAS who was represented Anthony Omozoje, army chief of policy and plans said the volatile and complex security emergencies facing the nation had necessitated the continuous review of the national security architecture to contain the threats.
He noted that acts of insurgency, terrorism, kidnapping, banditry and other terrorist organisations have continued to pose substantive threats to the nation.
Faruk also said that the winning mentality must be inculcated into all troops who have continued to "respond assiduously to contain and decimate all adversaries of Nigeria" in line with his message that all adversaries of Nigeria must be defeated decisively.
The COAS said;
"Let me also seize this opportunity to reiterate the unwavering commitment of the President, Commander-In-Chief of the Armed Forces for his invaluable support to the Nigerian army towards ensuring success in our various operations.
"We must on our part, continue to justify these resources and goodwill consistently executing all assigned tasks swiftly and in the most efficient and professional manner as warriors."