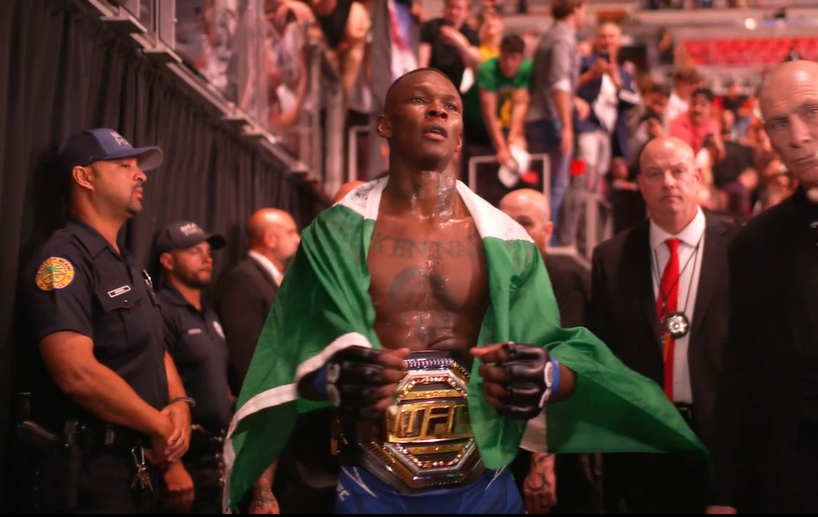 Share this
Israel Adesanya celebrates at the end of his fight against Alex Pereira at UFC 287 in Miami, Florida, USA. (Photo: Screenshot)
Israel Adesanya of Nigeria knocks out Alex Pereira of Brazil in the UFC middleweight championship fight during the UFC 287 event at Kaseya Center in Miami, Florida. (Photo: AFP)
Israel Adesanya of Nigeria knocks out Alex Pereira of Brazil in the UFC middleweight championship fight during the UFC 287 event at Kaseya Center in Miami, Florida. (Photo: AFP)
Israel Adesanya celebrates at the end of his fight against Alex Pereira at UFC 287 in Miami, Florida, USA. (Photo: Screenshot)
Israel Adesanya celebrates at the end of his fight against Alex Pereira at UFC 287 in Miami, Florida, USA. (Photo: Screenshot)
A spectacular second round knockout was all Israel Adesanya needed to defeat his long-time nemesis Alex Pereira and exorcise a demon.
Adesanya suffered a controversial points loss to Pereira in their first fight, a kickboxing match. In their rematch, also in kickboxing, Adesanya was leading but was knocked out. In November 2022, in their first MMA clash, again Adesanya was ahead, but he was beaten in the final round.
On Sunday, on his fourth attempt, Adesanya, fondly known as The Last Stylebender, finally got his win over Pereira, and in stunning fashion with a knockout at minute 4:21 of Round 2.
At the end of the fight, Adesanya said he was "playing possum" against the fence, waiting for a moment to strike.
And when he struck, did he strike. It was a clean right hook from nowhere, and it stunned Pereira still. The next shot was another right hook to put down Pereira.
One hammer fist, and the fight was waved off, but Pereira was already out cold after the second hook.
In the end, Adesanya made good on what was likely his last chance to beat Pereira and improved his MMA fight record to 24-2 (13-2 UFC), while Pereira (7-2 MMA) suffered his first loss in the UFC (4-1 UFC).