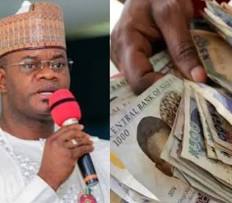 Share this
The Kogi State Government has said it will arrest residents of the state who reject the old naira notes.
In a statement signed bythe State Commissioner of Information Kingsley Fanwo on Friday, the Kogi State government said the old naira currency remains a legal tender, warning that residents found rejecting it should be punished according to the law.
The statement shared on the Kogi State Government Twitter page partly read, "The reason the Kogi State Government joined other state governments in the country to pursue the case was to ease the hardship occasioned the unavailability of the new naira notes, which the court fully granted.
"It is therefore unacceptable that some persons and businesses will continue to reject the use of the old naira notes, even after the court judgment validating their use. Rejecting the old naira notes is a clear disobedience of the Supreme Court ruling.
"Anyone who rejects the old naira notes should be reported to security and government authorities for immediate action. Also, banks that refuse to accept old naira deposits shall be sealed as the State Government will not accommodate financial institutions that willfully disobey court orders, moreso, the orders of the highest court in Nigeria."