Share this

Its another Wednesday, a day we publish articles on our special segment, "Words in Pen". Today we are actually bringing to you a true life story submitted to us a young Abuja based lady currently serving in Minna, Niger state. The true life story is about an Abuja based Married man, Samuel, who is an accountant and he is going after a young single girl for a sex relationship. The young lady submitted this article to us for publication to share her experience and to share some moral lessons. The young girl decided to remain anonymous for security reasons. Also, for the safety of the young girl we have decided not to give out the full personal details of the man involved but just his first name, Samuel.
Read below the full story as written the girl: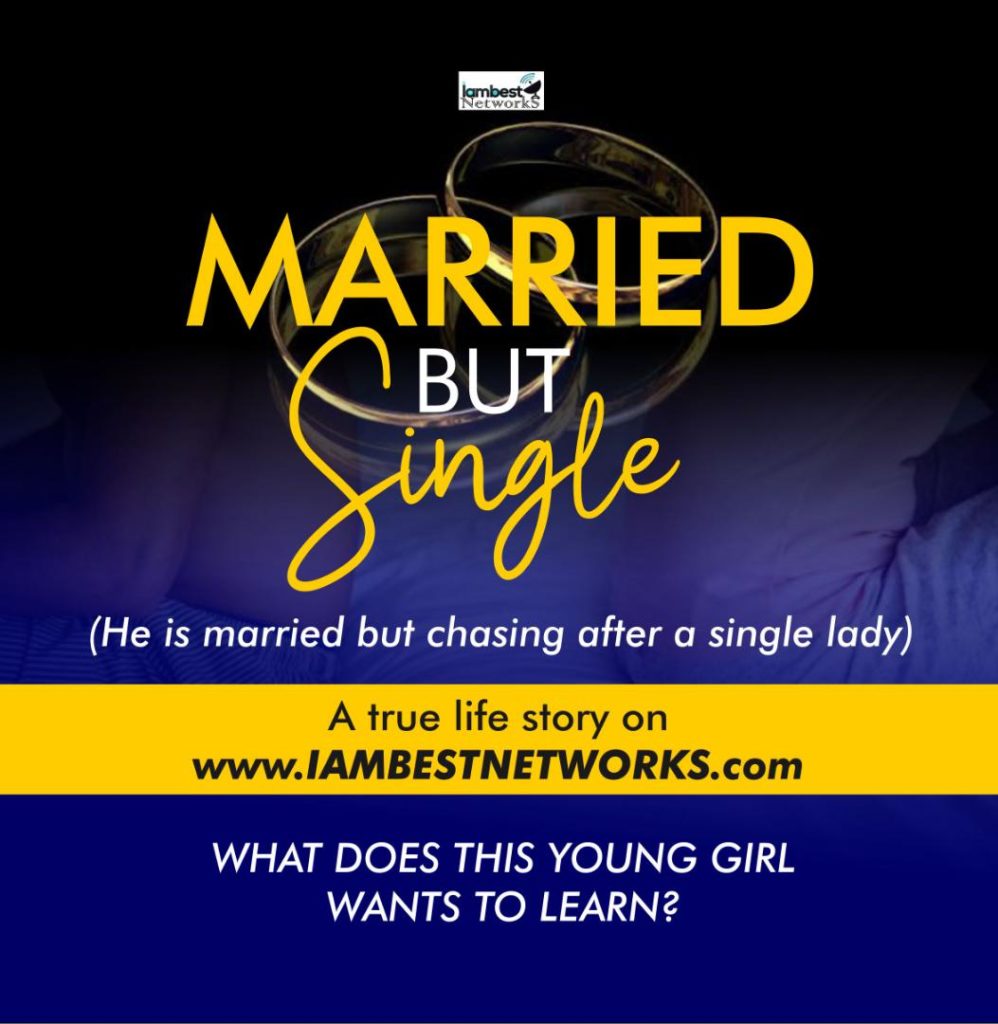 I'm not a good story teller but I have decided to pick up the task writing this article.
Well, I am a lady, still single and just in her early 20's. That all I can say about myself in this article.
Hmm, it always interests me when single guys and ladies tell me about their dream weddings. How colourful, elaborate and exorbitant they want it to be. Others have a simple wedding in mind. Above all, weddings are beautiful events that always blow our mind, they make some people do crazy things to impress friends and eye witnesses.
I have attended weddings in life, both the ones I was invited and not invited. It's absolutely cool which ever way because celebrating with others calls for our own celebration.
This piece was inspired this particular wedding I attended in 2017. I had accompanied a friend to the wedding, who happens to be a close relative of the bride…
THE COMPLETE STORY IS HERE… CLICK TO READ THE COMPLETE STORY AND ALSO DOWNLOAD TRUE LIFE STORY,"MARRIED BUT SINGLE".
This is a publication of Words in Pen, weekly publication(every Wednesday) of I am Best Magazine… proudly IAMBESTNETWORKS LTD.Are you a writer and you want to be a contributor to WORDS IN PEN, WhatsApp or call 08130286036;Email: [email protected]Courtesy of : Iambestnetworks ltd.Contact us: Call or whatsapp: 08130286036; call:07057457203Email us: [email protected]Facebook: I Am Best TVInstagram: @iambestnetworksTwitter:@iambestnetworks