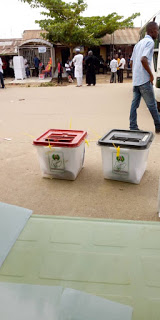 Share this
Today being 9th of March 2019 scheduled to be for Governorship and State House of Representatives elections  in states and Area Council elections in Abuja is actually experiencing low and poor turn out of voters all over the country. The election of Governors is happening in 29 states out of 36 states in Nigeria today.

There are no queues and INEC adhoc staff are actually less busy because of low turn out and they are still waiting for electorates if they will come out to vote before 2pm which is the official INEC closing hour.
As at the time of filing this report our correspondent in Abuja reported that  many polling units were still waiting for electorates but people were going out to attend to their personal schedules.
In one of the polling units in Abuja, Kubwa village to be precised, Byazhin junction, the place is seen empty with  no electorates. We hope to interact much more later with residents and INEC staff to know the possible causes of this low and poor turnout of electorates.
See photos below:
Reported Glorie Shekwosa Dauda