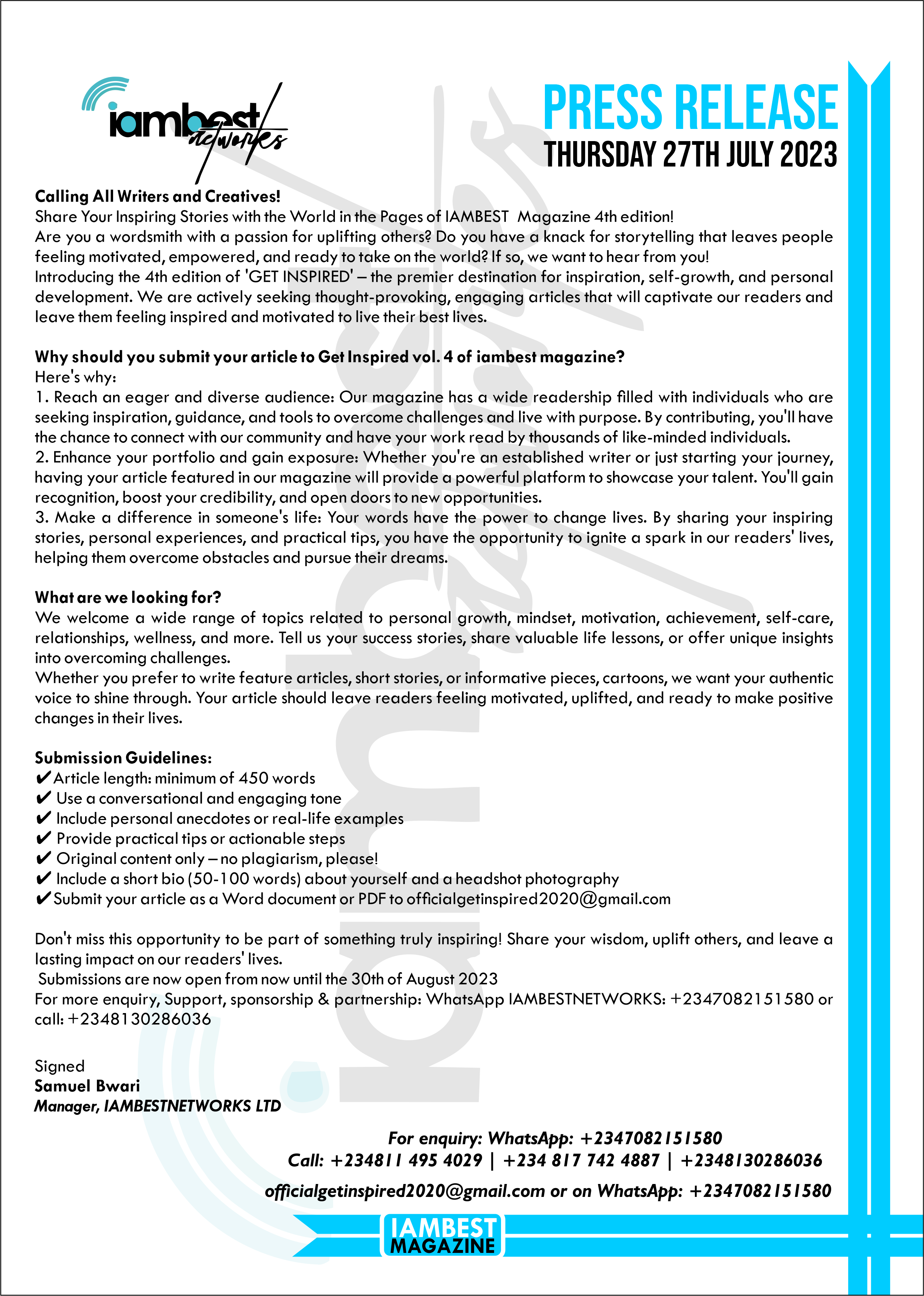 Share this
PRESS RELEASE: Calling All Writers and Creatives!
Share Your Inspiring Stories with the World in the Pages of IAMBEST Magazine 4th edition!
Are you a wordsmith with a passion for uplifting others? Do you have a knack for storytelling that leaves people feeling motivated, empowered, and ready to take on the world? If so, we want to hear from you!
Introducing the 4th edition of 'GET INSPIRED' – the premier destination for inspiration, self-growth, and personal development. We are actively seeking thought-provoking, engaging articles that will captivate our readers and leave them feeling inspired and motivated to live their best lives.
Why should you submit your article to Get Inspired vol. 4 of iambest magazine?
Here's why:
1️⃣ Reach an eager and diverse audience: Our magazine has a wide readership filled with individuals who are seeking inspiration, guidance, and tools to overcome challenges and live with purpose. By contributing, you'll have the chance to connect with our community and have your work read thousands of like-minded individuals.
2️⃣ Enhance your portfolio and gain exposure: Whether you're an established writer or just starting your journey, having your article featured in our magazine will provide a powerful platform to showcase your talent. You'll gain recognition, boost your credibility, and open doors to new opportunities.
3️⃣ Make a difference in someone's life: Your words have the power to change lives. By sharing your inspiring stories, personal experiences, and practical tips, you have the opportunity to ignite a spark in our readers' lives, helping them overcome obstacles and pursue their dreams.
????️ What are we looking for?
We welcome a wide range of topics related to personal growth, mindset, motivation, achievement, self-care, relationships, wellness, and more. Tell us your success stories, share valuable life lessons, or offer unique insights into overcoming challenges.
Whether you prefer to write feature articles, short stories, or informative pieces, cartoons, we want your authentic voice to shine through. Your article should leave readers feeling motivated, uplifted, and ready to make positive changes in their lives.
???? Submission Guidelines:
✔️ Article length: minimum of 450 words
✔️ Use a conversational and engaging tone
✔️ Include personal anecdotes or real-life examples
✔️ Provide practical tips or actionable steps
✔️ Original content only – no plagiarism, please!
✔️ Include a short bio (50-100 words) about yourself and a headshot photography
✔️ Submit your article as a Word document or PDF to [email protected]
Don't miss this opportunity to be part of something truly inspiring! Share your wisdom, uplift others, and leave a lasting impact on our readers' lives.
Submissions are now open from now until the 30th of August 2023
For more enquiry, Support, sponsorship & partnership: WhatsApp IAMBESTNETWORKS: +2347082151580 or call: +2348130286036
Signed
Management
iambestnetworks LTD