Share this

Gardsons Ecotours an Abuja based tour Agency is at it again. Gardsons Ecotours known for youth group travel such as, motivational and adventurous tours to eco-tourism sites. G.E.T explore the splendor of nature and discover new Tourists destination as it partners with Nigeria Tourism Development Corporation in developing the sites.
On the 1st of October, 2020, Gardsons Ecotours will embark on one day trip to Ushafa Tourists attraction sites to celebrate Nigeria Independence at 60years.
Ushafa is a Community endowed with lots of Tourism potentials. It is located in Bwari Area Council in the Federal Capital Territory Abuja, Nigeria.
Among many Tourists attractions are; the Ushafa Pottery Centre that once had the audience of the former United States President Bill Clinton on his visit to Nigeria August 20, 2000. Ushafa has lower Usuma Dam (Ushafa Dam) a beautiful scenery that will thrill your curiosity. The Gogodna Waterfall, Kuchidna Stream, Lazope rock and caves and lots more.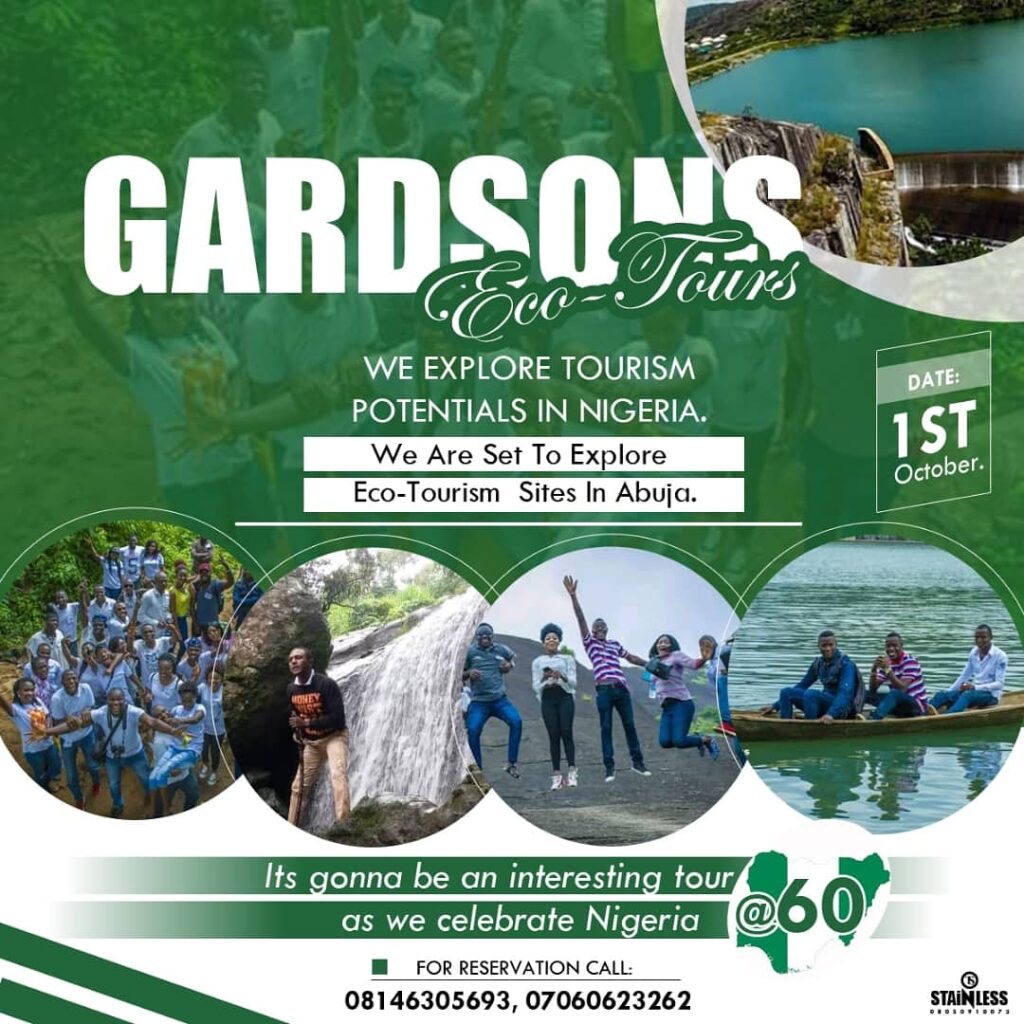 The tour is going to enjoin the participation of about 60-70 youths from different parts of the country. In view of this, the Organization intends to invite Nigeria Tourism Development Corporation NTDC to participate in the tour. Among the many participants are, Tourism experts, entertainers, bloggers, media personalities, business persons, Entrepreneurs, professionals from different fields of life and students too.
The theme for the Tour is, "OUR LAND SHALL BE GREEN AGAIN". Hence, the trip is going to be a decorated trip where every participant is going to put on Nigeria Green, White and Green colours as we mark [email protected] The T-shirts, Mouflag, Face painting and flying of Nigeria flags is going to be one of the most beautiful attraction during the Tour.
BENEFITS OF GROUP TRAVEL: WHY EVERY TRAVELER SHOULD EXPERIENCE IT.
At every stage in a travelers life they should experience group travel. While solo backpacking, or couple travel can be rewarding in its own right, there's nothing quite like exploring a new destination or activity with a group of friends.
Whether you arrange a trip with your closest friends, or join a tour company, traveling with other people helps create new friendships and solidify old ones.
The new experiences help create lifelong memories and bonds between people that extend well beyond your trip. No matter what type of traveler you are, here are a few top reasons you should travel in a group.
Benefits of Group Travel with Friends…
One of the best things about traveling as a group is being able to share all the wonderful new experiences with some of your closest friends. Back home you've got your everyday memories together from school or work or social events, but now you're off gallivanting around the world making stories that you'll never forget.
Organizing a group tour can be an easy way to find a likeminded group of people.
TOURISM IS LIFE.