Share this

Its worthy of note that in this 21st century, the style trends of the fashion industry dominate the world more than they ever did, and control not only the way people dress but also trends in home ware design, makeup fashion and people's overall attitudes. In the early 60s and even before, flower power did not only mean flares and tunics, it summed up the whole attitude of a generation, and this is even more prominent today and in this season.
Nowadays, fashion is bold and daring, and this reflects a noughties generation that is not afraid to say what they think, or wear what they want. Fashion is not just a means of clothing your body, Yeah! it is the essence of your personality and beliefs, and designers like "Kanga Couture" are well aware of the power they hold. Designers' predictions and designs for the coming season are more hotly anticipated than any other revelation in the world.
Fashion is better portrayed on great Models like "Ashezi patience Habu" the Face Of IAMBESTNETWORKS who are elegant & have fashion stamina alongside beautiful body that is well built to fit in any fashion style. Not forgetting smart Make Up Artists who knows how to enhance the beauty of a model to fit a particular fashion design like Mimmy Artistry and finally the people who tell the fashion pictorial story like "Mr Saint" of Amebo Media can not be forgotten.
Have you seen a beautiful model like Ashezi patience Habu, the Face of IAMBESTNETWORKS. Enjoy this work of art created exclusive on our WEEKEND COUTURE of IAMBESTNETWORKS LTD.
More mouth watering pictures will be punished here soonest and also on all our platforms. Facebook: I Am Best ; TV; Instagram: @iambestnetworks ;
Twitter: @iambestnetworks ;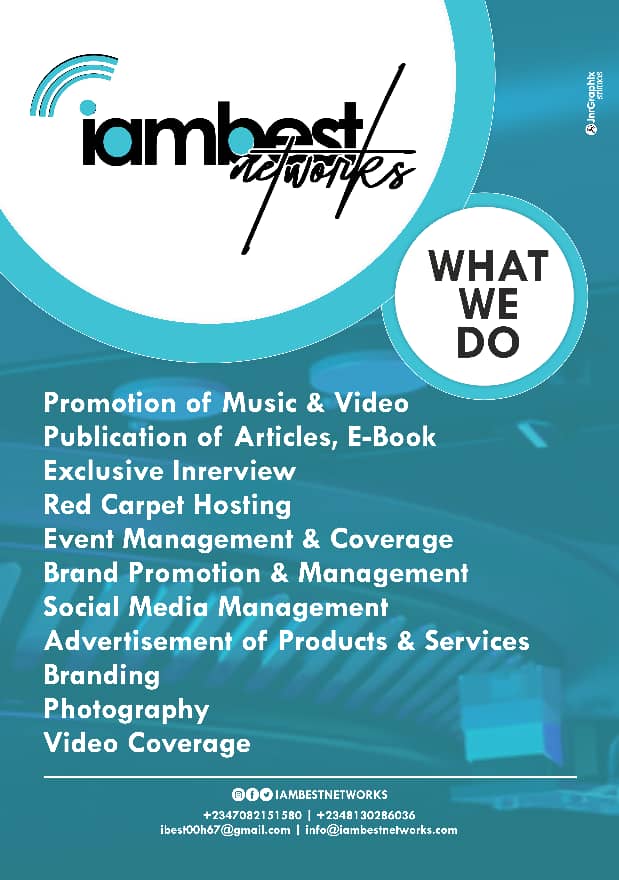 Courtesy of : IAMBESTNETWORKS LTD
Contact us: Call or whatsapp: 07082151580, 08130286036; call:07057457203 Email us: [email protected]; Facebook: I Am Best ; TV; Instagram: @iambestnetworks ;
Twitter: @iambestnetworks ;