Share this

I have an unhealthy mentality when it comes to discussing the topic "female". My experience as someone who has spent almost two decades in the northern part of Nigeria, I would say 'females' are subjected to torture, mentally, emotionally and otherwise! And I asked myself, why do our dreams go unfulfilled? Are we to be blamed or others? The most painful aspect of my findings is what I called the 'Conspiracy of Silence' us the females and the illusion we grew up with right from childhood. I am a heart harden feminist in this. Well, it may interest you to know that, I am not one of those feminist who sees marriage as a means to happiness, capital NO! I belong to the caliber of feminism who believes that if a man can be successful, then a woman can also be successful regardless of where the societies and authorities has placed us.
Thus, when a man is trying to be independent, let's also try not to be a liability to him!
These are 'Seat and fold arms ladies' well, I can't say they're lazy; they are ignorant of the enormous opportunities around us. Every one of us bestowed with extraordinary abilities. Around this kind of ladies are dollars in gutters out of Ignorance they fail to grab these opportunities. There is also those who have the mentality of; 'moreover I go soon marry'. Oh sister. You're expecting a successful dude who hustled and toiled day and night to come into the picture abi?
Recently It dawned on me that; the chromosomes that came together to begot beautiful beings, were independent before they came together to form us. This alone justifies the fact that we only need a push to be successful. No wonder some guys would say; 'they can't do without us'
Let's be ladies of substances.
Imagine having 5-6 self contain buildings and 50% of its payments are being made to your unborn kids accounts per annum, before you walk down the aisle. Ladies let's kill the mentality of 'I dey wait make the right man come first!'
Hey, before you take your bath and leave to a friend's shop to keep him/her busy, before arguing with anybody today, note that you only have 24 hours to make an impact in a day. If you haven't made an impact today, do you think it is wise to invest your limited time on someone who has his or her day planned?
In a world like ours we have so many reasons to work. In my family, you owe yourself success!
Most people wish their circumstances would magically change for them. They don't have the will to become better themselves in order that they can proactively improve their own circumstances.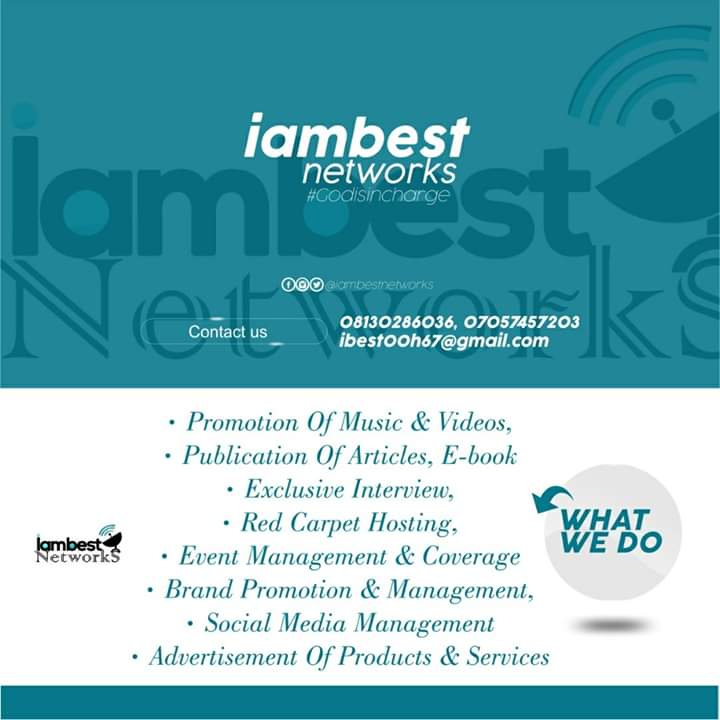 Unlike most people, who simply wait and wish for luck, let's seek to become the type of person equipped with the talents and skills to do brilliant things.
Oh, how I love the word 'skills' you can become the type of person with highly influential skills. Your skills can solve pressing problems, improve people's lives, and get noticed important people that need your skills!
The quality of who you're as an individual, and the work you are doing, is totally within your control. But you can't wish for it to happen. We must become the type of people who naturally attracts the success we seek. Every human was gifted potentials which are unique, embedded in us like a fertile land awaiting cultivation.
Awake the potentials in you today.
GEORGINA E. IJACHI
Are you a writer and you want to be a contributor to WORDS IN PEN,
Contact us:
Call or whatsapp: 08130286036; call:07057457203
Email us: [email protected]
Facebook: I Am Best TV
Instagram: @iambestnetworks
Twitter:@iambestnetworks