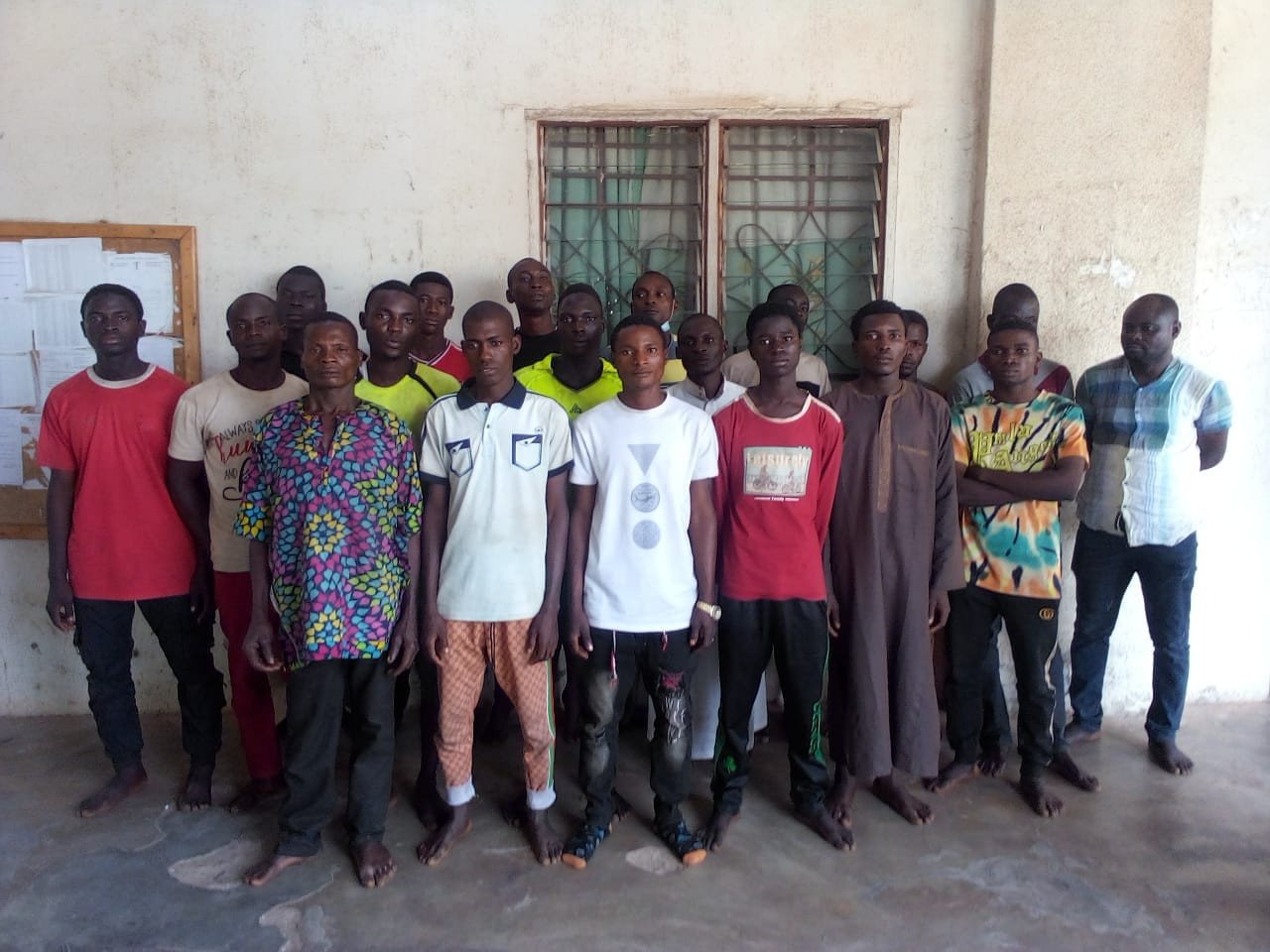 Share this
The Niger State Police Command has arrested 19 suspects for burning down Kafin-Koro Police Station in protest over the killing of a Catholic priest, Reverend Fr. Isaac Achi.
Spokesman for the Police Command, DSP Wasiu Abiodun, who confirmed the arrest in a statement said about 28 other suspects are presently at large.
"On 17/01/2023 at about 0900hrs, some angry youths of Kafin-Koro District, Paikoro LGA mobilized and protested in Kafin-koro town over the killing of the Rev. Fr," the statement read.
"During the protest, the rampaging youths conspired amongst themselves and invaded Kaffin-Koro Police Divisional Hdqtrs with dangerous weapons such as sticks, stones, bottles, large quantities of PMS (petrol), and other weapons.
"Without any provocation from the Police, who were even ready to protect the youths for a peaceful protest, but the youths proceeded to the station and set the Divisional Hdqtrs building ablaze, where four motor vehicles and ten motorcycles, value yet to be ascertained were burnt, including valuable public documents in the office.
"They further vandalized and stole some valuable exhibits such as electronics, laptops, handsets, computer sets etc., kept in the office, value also yet to be ascertained.
"The Commissioner of Police, Niger State Command CP Ogundele J. Ayodeji, psc(+) immediately drafted a reinforcement team led Deputy Commissioner of Police, Operations to the scene, normalcy was restored and arrested the suspects below:
The suspects are: Abdulkadir Aliyu 37yrs (leader), Umar Jibrin,25yrs, Usman Ali,30, Moh'd Aminu,31, Rufai Abdullahi, 22, Abubakar Abubakar,19y, Aliyu Suleiman,35,Paul Martins,38, Hamza Aminu, 23, Bashir Bala, 20, Abdullahi Danmallam, 25, and Musa Emmanuel,20.
Others are Ibrahim Abubakar,20, Buhari Salisu,18,Timothy Simon, 27,Usman Jatan,25, Dangana Zegi,48, Mustapha Yau,30, and Ahmed Mudi,17.
During interrogation, the irate leader Abdulkadir identified all the suspects who were parts of the crime, and equally mentioned about twenty-eight other suspects who are presently at large.
The Command also released other innocent persons who were erroneously arrested, as the actual suspects were identified the leader.
Suspects have been arraigned before a court of competent jurisdiction for prosecution.
The CP therefore, warns members of the public, Nigerlite to desist from any act of taking laws into their hands and allow the process of the criminal justice system to take its course in the dispensation of justice, as there will always be a consequence for every misdeed in accordance to the rule of law.