Share this
For years, Shiroro, Munya and Rafi Local Government Areas have all been under attack on daily basis. Armed bandits have killed and driven away thousands of residents in those three local governments mentioned above. Gbagyis are the predominant occupants of those areas. Indigenes have cried and requested help from the state and Federal Government but yet, the killings never stops rather they persist.
Today being 16th of June, the people of Rafi, Shiroro and Munya LGAs in their large numbers are currently out to protest against the constant and incessant killings of indigenes. There have been rumours that these bandits uses helicopter for their operations and they fire arms and grenade on innocent people leaving the people with no choice than to run for their lives without their belongings. The protesters were seen in minna in the Emir palace seeking that the Emir address the matter.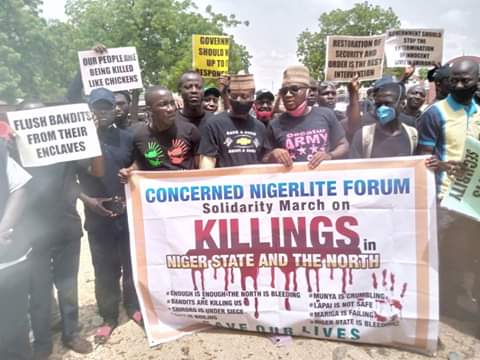 Haruna Musa Umar on the Facebook page of "Shiroro Youth Development Forum" and on another Facebook group ,"Come to Niger" announced the ongoing protest and also shared photos of the protest.
PROTEST
shiroro, munya, Rafi. Local government in Niger state are under siege armed bandits. Today protest is ongoing, protesters in Niger state are calling for an End to bandits attack against the communities in Niger state.
A demonstrator holds a sign during a protest the killings in the communities part of Niger state. Tuesday 16 June, 2020. At the emir palace Minna.
Haruna Musa Umar
President (SYDF)