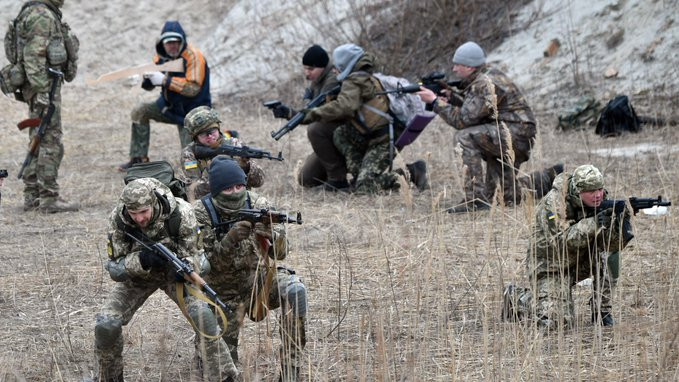 Share this
Four NATO members, Portugal, Czech Republic, Poland and the Netherlands have announced they would send reinforcements to assist Ukraine in its battle against Russia.
The Czech Republic committed on Saturday, February 26, to send a "shipment of weapons to Ukraine" worth over $8.5 million to a "place of Ukrainians choice."
"The government has approved a shipment of weapons to Ukraine. We are sending machine guns, submachine guns, sniper rifles and pistols and their corresponding ammunition valued at CZK 188 million," Czech Prime Minister Petr Fiala tweeted.
"We are doing everything we can to help Ukraine," Fiala added.
Portuguese Prime Minister Antonio Costa said Friday that the country would be sending reinforcements to join Ukrainian soldiers on the ground to help secure their borders as this "is a war against the freedom of self-determination of a democratic country and therefore it is also a war against the freedom of self-determination and against democracy."
Speaking at a televised news conference, the Portuguese prime minister, flanked Defense Minister Joao Gomes Cravinho, left, and the Chief of Armed Forces General Staff Admiral António da Silva Ribeiro said;
"There was an unanimity of all states, in view of the need to strengthen the NATO presence on the borders of Ukraine and in all the alliance countries that are close to the Ukraine region."
"Portugal, in this sense, in addition to the forces that this year has assigned to the European command of NATO, decided to anticipate, from the second half to the first half, the mobilization and commitment of an infantry company that will act in Romania and that will be projected in the coming weeks," Costa said.
"Several other countries at the moment are either anticipating or reinforcing or deciding to reinforce their participation with these countries [bordering Ukraine] in order to have a clear manifestation of unity and deterrence regarding Russia's actions," Costa added.
When asked for a specific number of soldiers that would be sent to support Ukraine, Costa said the infantry company would include 175 troopers.
The Netherlands also on Saturday said it would be providing Ukraine with more weapons.
"The Netherlands will supply Ukraine 200 anti-aircraft Stinger missiles. Other defence material already on its way," the prime minister's foreign affairs and defense adviser, Geoffrey van Leeuwen, tweeted.
Germany, who is very dependent on Russia for its energy and gas, also announced it will deliver anti-tank weapons and missiles to Ukraine, a major policy shift after resisting Kyiv's previous calls for defensive weaponry.
"The Russian attack marks a change in times. It is our duty to support Ukraine as much as we can defending themselves against Putin's invasion army. Therefore we will deliver 1,000 antitank weapons and 500 stinger missiles to our friends in Ukraine," German Chancellor Olaf Scholz tweeted Saturday after a meeting with Polish Prime Minister Mateusz Morawiecki and Lithuania's President Gitanas Nauseda.