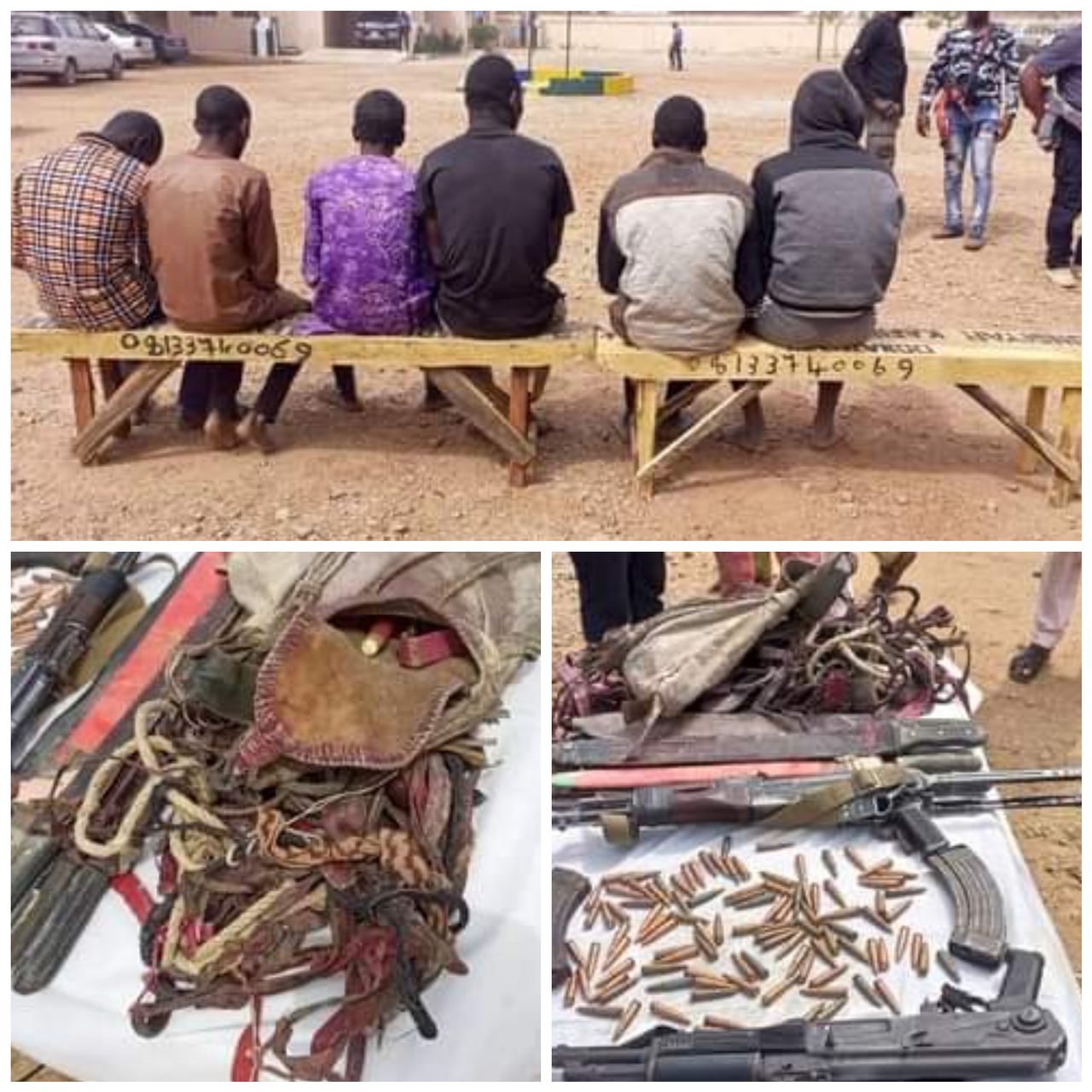 Share this
Operatives of the Zamfara State Police have arrested five suspected bandits for kidnapping and cattle rustling.
Spokesperson of the command, SP Mohammed Shehu, in a statement on Wednesday, January 4, said police operatives also arrested a notorious bandit informant identified as 35-year-old Isah Ayuba.
According to the PPRO, on January 3, 2023, Police Tactical Operatives acted on intelligence information that led to the arrest of Ayuba, who gives information to bandits operating in Kaura Namoda, B-Magaji, Zurmi and Shinkafi Local Government Areas.
Shehu said that in the course of interrogation, the suspect confessed to collaborating with bandits giving them information on who to kidnap, where to attack and so on.
The suspect is under police custody revealing vital information that will lead to the arrest of his collaborators, he added.
Police operatives also repelled an attack at a community in Gusau and Maru Local Government Areas of the state and recovered two AK 47 rifles, 104 rounds of live ammunition, two magazines for AK 47, and a bunch of charms.
"On 1st January 2023 , Police Tactical operatives while on a confidence building patrol along Gusau – Magami – Dansadau Road received a distress call about bandits' plan to block the road and attack commuters and extension some villages," the statement read.
"The Police operatives mobilized to the locations and engaged the bandits to a serious gun battle. Luckily enough, one of the bandits was neutralised and others were repelled the superior fire power of the Police operatives, as such they retreated back to the forest with possible gunshot wounds. Two AK 47 Rifles, Two Magazines, 104 round of live ammunition and bunch of charms belonging to the bandits were recovered at the scene,"
Two suspected bandits Umaru Buba, 21, and Babuga Manu,20, both of Baburasa village in Kainji LGA of Niger State were arrested for kidnapping and cattle rustling.
"Police Tactical operatives while on confidence building patrol/ Stop and Search acted on intelligence information that led to the arrest of the above mentioned suspects,"
"In the course of interrogation the police, the suspects confessed to being into kidnapping and cattle rustling in various states such as Zamfara, Katsina, Kaduna, Niger and other States in the North.
"The suspects further confessed to belonging to the gang of Bello Turji where they took part in the kidnapping of unspecified number of victims in which millions of Naira were collected as ransom.
Police operatives arrested a gang member of a notorious bandit kingpin, Halilu Kachalla for banditry, kidnapping and cattle rustling.
On 1st January, 2023 at about 1330hours, Police Tactical operatives while on Confidence building patrol/Stop and Search arrested the suspect identified as Musbahu Aminu, 30.
"The suspect, while undergoing discreet investigation, confessed to being a gang member of Bandit Kingpin Halilu Kachalla who operates in Zamfara and other neighboring States. The suspect further confessed to participating in several kidnapping and cattle rustling where millions of Naira were paid victims' relations as ransom," the statement read.
Another suspected bandit, Abu Maru, 25, was arrested for kidnapping,cattle rustling and other heinous crimes. Exhibits recovered include one operational motorcycle and a sharp knife.
"On 2nd January, 2023 at about 1215 hours, Police Tactical Operatives deployed along Gusau – Tsafe Road on rigorous patrol arrested the above mentioned suspect on motorcycle coming out of the forest,"
"In the course of investigation, the suspect confessed to belonging to a gang of Bandits operating in Mada, Wonaka, Yandoto and Tsafe under their gang Commander Malam Tukur. He also confessed that, on several occasions, they blocked Gusau – Tsafe – Yankara Road and abducted an unspecified number of people and took them to their enclave in which their relations paid ransom before their release. The recent abduction they carried out was on 1st January 2023 at about 1900hours where they blocked two vehicles along Gusau – Tsafe highway Yandoto village and kidnapped Nine persons including three (3) women and two (2) children,"
Discreet investigation is in progress, all the suspects will be charged to court for prosecution on completion of investigation, the spokesperson added.