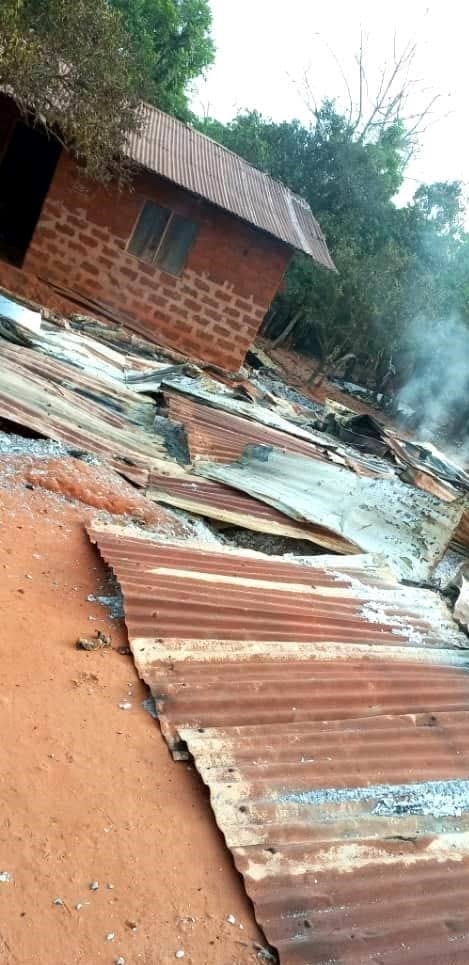 Share this
More than six farmers and traders have been killed byFulani herdsmen at Arimogija and Molege communities in Ose Local Government Area of Ondo state.
Narrating the ordeal, a community leader, Mr. Owolafe Folorunsho said the recent attack was triggered byfarmers to repel the continued wanton destruction of their crops bythe herdsmen.
According to him, the herdsmen ambushed and attacked some traders who were returning to the town from Akure and killed all the occupants of the vehicle before setting the vehicle ablaze and taking their money and belongings.
Many houses, cars and motorcycles were burnt during the attack while the families of the victims killed some cows in retaliation.
"The herders have continued to invade our farmlands at night, harvest our crops to feed their Cows & in many occasions, they will come during the day, forced us to uproot the Cassava ourselves at gunpoint, command us to cut them into pieces to feed their cows," he said. 
"In order not to take laws into our hands, we reported this act of economic sabotage to the appropriate authority who took prompt action to chase them out of the farming areas only for the Fulanis to come back and attacked us with AK-47, Pump Action, Axes & Cutlasses and killed our people at night". 
A first-class traditional ruler in the area, the Onimoru of Imoru, Oba Rotimi Obamuwagun, who confirmed the invasion and attack on the people of the communities lamented over the atrocities and criminal activities of the herdsmen in the area.
The monarch disclosed that over four hectares of cassava farmland belonging to one of his subjects were destroyed the herdsmen, saying the farm was financed through bank loan from a commercial bank.
He stated that the herdsmen, who always armed themselves with sophisticated weapons are becoming more daring visiting homes and dragging the farmers to the farm, ordering them to uproot cassava for their cows.
He noted that apart from their cows being fed with cassava, the armed herdsmen have also embarked on harvesting other farm products to feed themselves.
Corroborating, Oba Obamuwagun, the Odibiado of Ijagba, Oba Andrew Ikioya Ilevare, said the bandits have now resulted in harvesting plantains and bringing them to market to sell.
The traditional rulers, however, called on the state government to draft more Amotekun officials to the area and queried the rationale behind herdsmen carrying sophisticated weapons.
Speaking on the development, the spokesperson of the state police command, Funmi Odunlami, said men of the command have been deployed to the area, assuring that the criminals would soon be arrested.