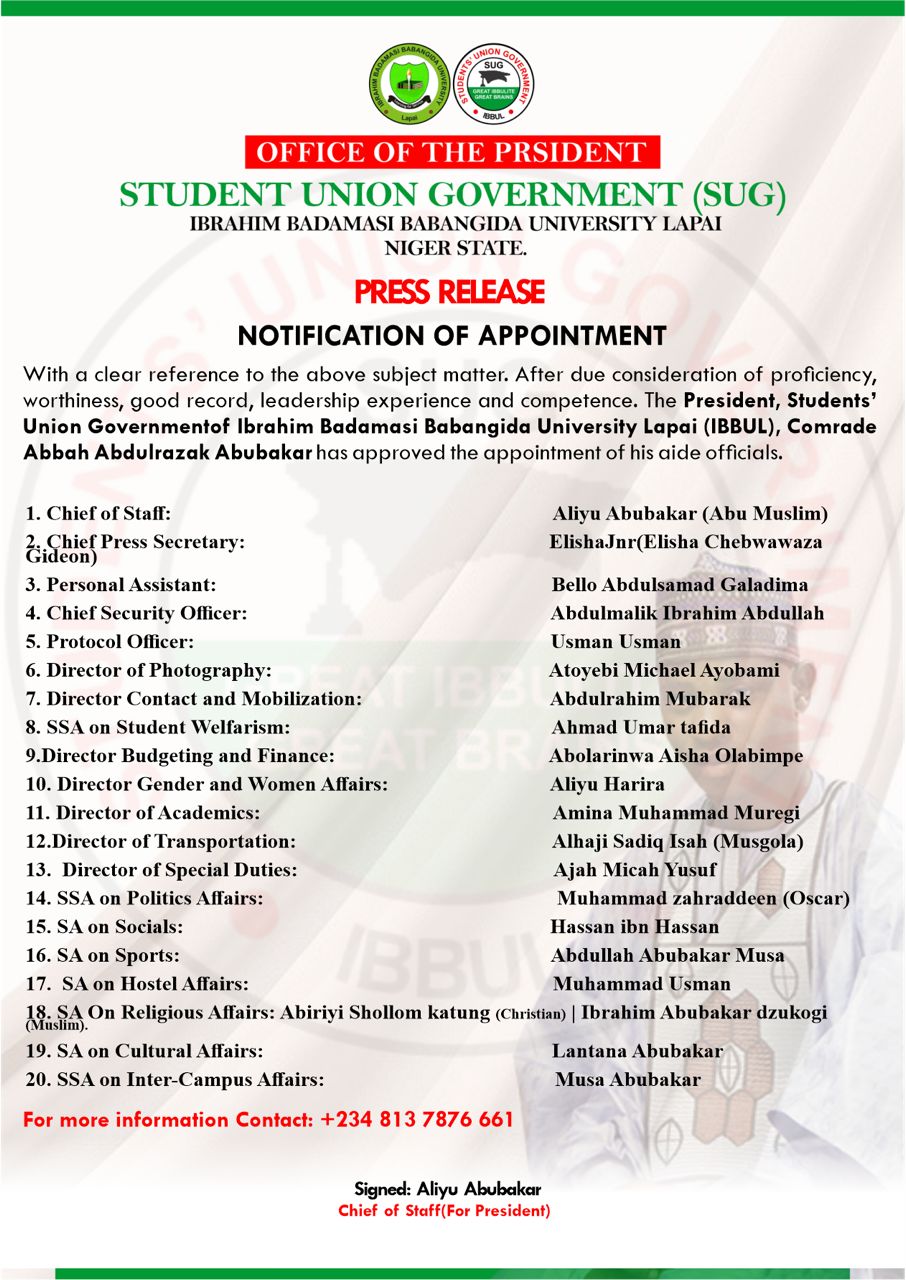 Share this
IBBUL SUG President's Office Appoints Students across different Departments as Aides
In a move to enhance the betterment of his government and foster a conducive learning environment, the IBBUL Student Union Government (SUG) President has announced the appointment of students from various departments as aides. This decision highlights the President's commitment to inclusivity and collaboration among students.
The newly appointed aides will play a vital role in assisting the SUG President in implementing student-centric initiatives, addressing concerns, and working towards the overall development of IBBUL. By involving students from different departments, the SUG President aims to ensure a holistic approach to governance and cater to the diverse needs of the student body.
This strategic move not only provides an opportunity for students to actively participate in shaping their university experience but also encourages a sense of ownership and responsibility towards the betterment of IBBUL. The appointed aides will work closely with the SUG President to create a positive and supportive learning environment that promotes academic excellence, student welfare, and extracurricular engagement.
The appointment of these student aides reflects the SUG President's vision to foster a collaborative and inclusive governance structure, where the voices and perspectives of all students are valued and represented. It is a step towards building a stronger, united student community at IBBUL.
As the newly appointed aides embark on their roles, the IBBUL student body eagerly anticipates the positive impact they will bring to the SUG government and the overall student experience. Congratulations to all the appointed students, and may their efforts contribute to the growth and development of IBBUL.
ElishaJnr ProCreative(Elisha Chebwawaza Gideon)
CPS to SUG President, IBBUL.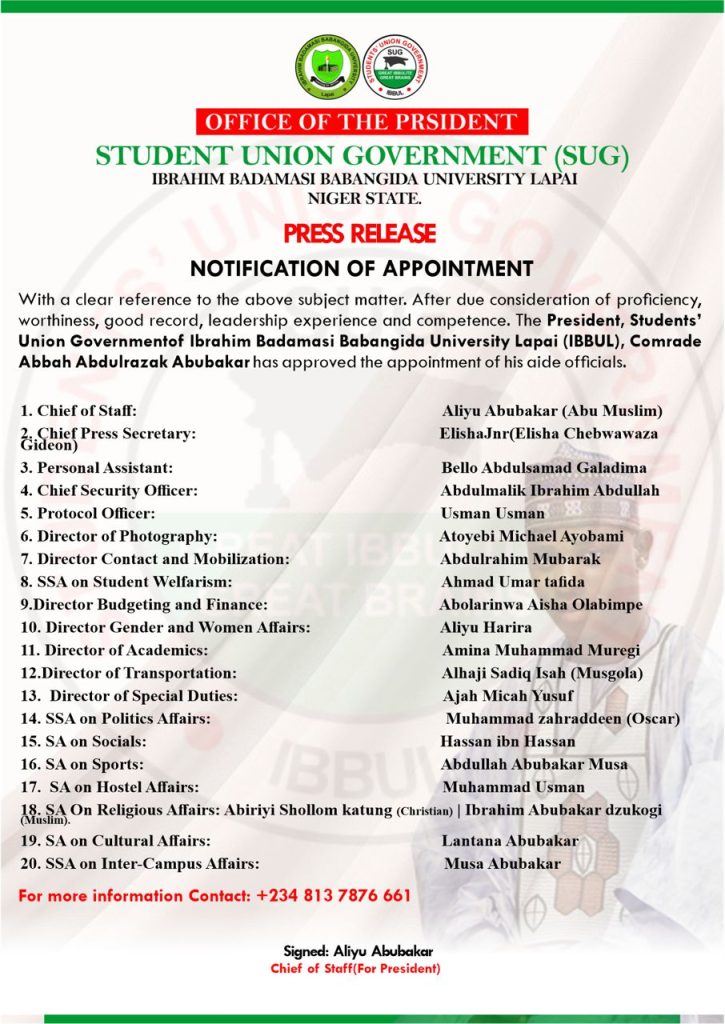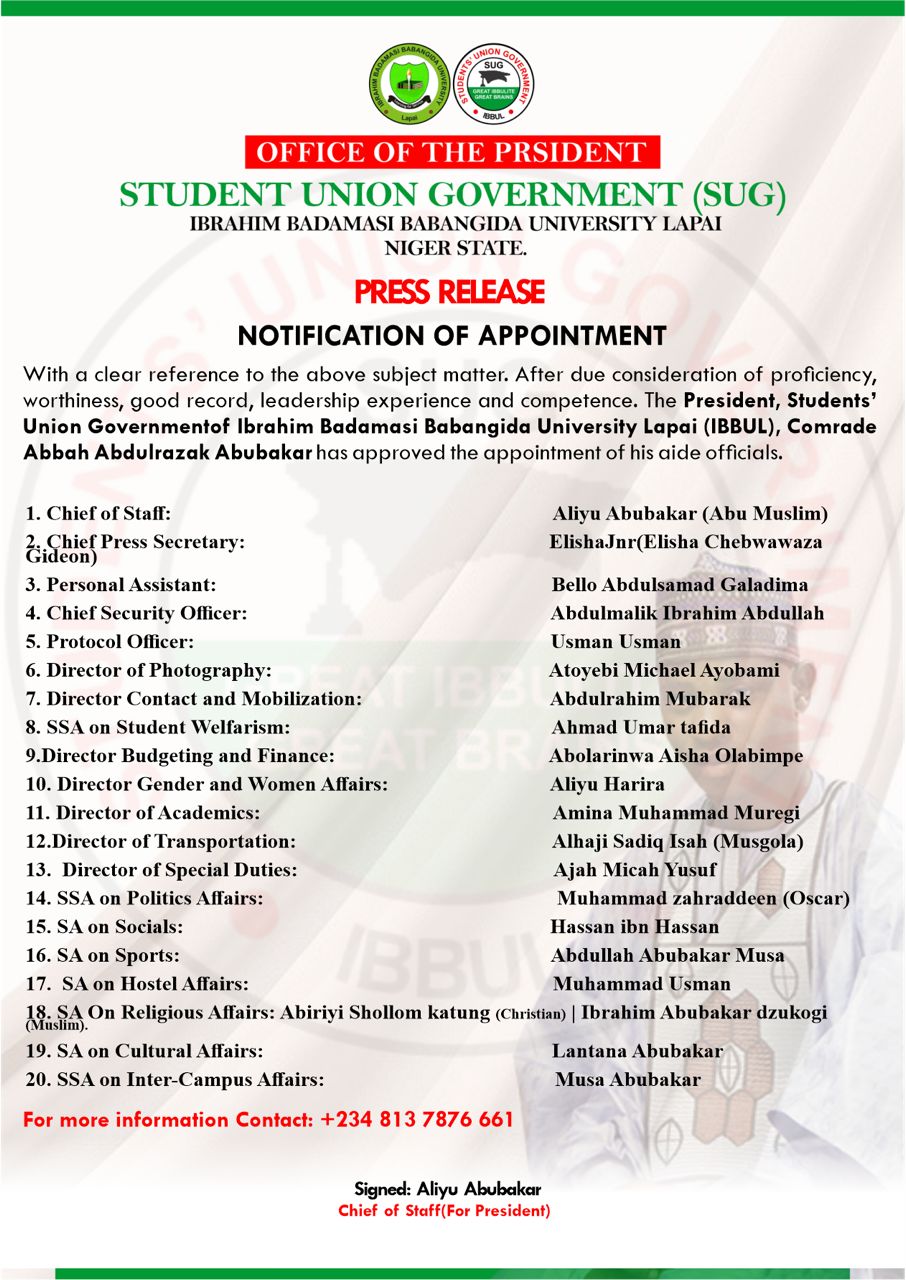 List of the newly appointed aides.
Chief of Staff: Aliyu Abubakar (Abu Muslim)
Chief Press Secretary: ElishaJnr(Elisha Chebwawaza Gideon)
Personal Assistant: Bello Abdulsamad Galadima
Chief Security Officer: Abdulmalik Ibrahim Abdullah
Protocol Officer: Usman Usman
Presidential Personal Photographer (PPP) Atoyebi Michael Ayobami
Director Contact and Mobilization: Abdulrahim Mubarak
SSA on Student Welfarism: Ahmad Umar tafida
9.Director Budgeting and Finance: Abolarinwa Aisha Olabimpe
Director Gender and Women Affairs: Aliyu Harira
Director of Academics: Amina Muhammad Muregi
12.Director of Transportation: Alhaji Sadiq Isah (Musgola)
Director of Special Duties: Ajah Micah Yusuf
SSA on Politics affairs: Muhammad zahraddeen (Oscar)
SA on Socials: Hassan ibn Hassan
SA on Sports: Abdullah Abubakar Musa
SA on Hostel Affairs: Muhammad Usman
SA On Religious Affairs: Ibrahim Abubakar dzukogi (Muslim). Abiriyi Shollom katung (Christian)
SA on Cultural Affairs: Lantana Abubakar
SSA on Inter-Campus affairs: Musa Abubakar