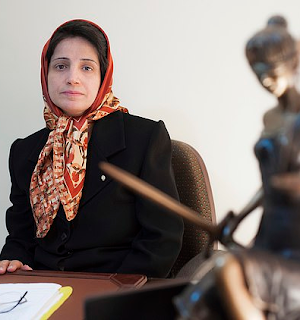 Share this
An Iranian authorities have sentenced a human rights lawyer to 33 years in jail and 148 lashes for campaigning against making headscarves compulsory for women.
Nasrin Sotoudeh, 55, a prominent Iranian human rights lawyer and women's rights defender, has been in Tehran's Evin prison since last June after she defended women who removed their headscarves in public.
She represented women who were protesting against the mandatory headscarves for women, many of whom filmed themselves taking off the garment and posing it on social media.
She was arrested last June and charged with spying, spreading propaganda and insulting Iran's supreme leader, her lawyer said.
Sotoudeh was sentenced on Monday, March 11. A judge at a revolutionary court in Tehran, Mohammad Moqiseh, said on Monday Sotoudeh had been sentenced to five years for assembling against national security and two years for insulting Supreme Leader Ayatollah Ali Khamenei, the official Islamic Republic News Agency reported.
In 2016, she had been found guilty in absentia of espionage charges and sentenced to five years the court. The sentences announced so far total 12 years, but Sotoudeh's husband said Monday she had been condemned to decades in jail.
Sotoudeh's husband, Reza Khandan, wrote on Facebook that his wife was sentenced to "38 years in prison and 148 lashes."
Khandan wrote: "Five years of prison for the first case, and 33 years with 148 lashes for the second."
By the "first case", Khadan was referring to an intial case where Sotoudeh was found guilty in absentia of espionage charges and sentenced to five years the court.
The new ten-year sentence is the longest of seven different verdicts totalling 33 years bundled together in the case, Daily Mail reports.
"But only the longest sentence will be served, which is encouraging corruption and debauchery", Khandan said on Tuesday, March 12.
This is not Sotoudeh's first stint in prison. Sotoudeh already spent three years in prison after representing dissidents arrested during mass protests in 2009 against the disputed re-election of the ultra-conservative president Mahmoud Ahmadinejad.
She was arrested in 2010 security forces and later sentenced to 11 years in prison, Aljazeera reports. She was also banned from practising law for 20 years, before the Lawyers' Court at the Tehran Bar Association overturned the ban on her legal practice in August 2014.
During her time in jail, Sotoudeh staged two hunger strikes in protest against the conditions in Evin and a ban on seeing her son and daughter.
She ended up spending 3 years out of the 11 years and was released in September 2013, shortly before Iran's then-newly elected President Hassan Rouhani, who had campaigned on a pledge to improve civil rights, attended the UN General Assembly.
Amnesty International has condemned the sentencing of Nasrin Sotoudeh.
Philip Luther, Amnesty International's Middle East and North Africa Research and Advocacy director, said:
It is absolutely shocking that Nasrin Sotoudeh is facing nearly four decades in jail and 148 lashes for her peaceful human rights work, including her defence of women protesting against Iran's degrading forced hijab laws.
He added:
Nasrin Sotoudeh must be released immediately and unconditionally and this obscene sentence quashed without delay.
Amnesty noted that Sotoudeh's sentencing is the harshest the group has documented in Iran in recent years, suggesting that the Iranian government is increasing its repression on activists and rights defenders.