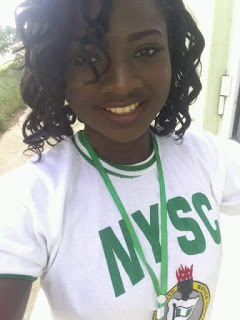 Share this
On Words in Pen today Wednesday, we are bringing to you something different. Its about a young vibrant NYSC  lady called  Dauda Glorie Shekwosa who shared her experience in camp.
She is still a serving Corper.  She talked about her experience on the internet and we felt it will be pertinent to share it here basically for its lessons.
Read below what she shared:
To start with, my stay in Yola,  Adamawa State was cool and awesome and I must say, its a nice place to be.
Just thought of sharing my experience with those who are yet to go for their NYSC camp and the lessons learnt while in camp. Well, this is not just for intended NYSC candidates but even the general public.
This is how the story goes, my first day at camp I had mixed feelings…..
Ok let me start from the very beginning.
I was at home (Bida) Niger State  when my friend (Magode) called my line at about 5pm saying that she was posted to  Imo state. I had no android phone then(LOL) so, I quickly used my mum's  to check my result(Bingham) and headed straight for the cafe which was the junction  of my house to check my posting. The lady  there attended to me, opened my email and helped check where I was posted to.  We tried picking my NYSC desired state(Abuja) but it didnt work. We tried several states still to no avail then to my greatest surprise Adamawa state "clicked."  At first when I saw it, the first thing that came to my mind was " Yola is not that bad. Then I asked myself 'Shebi' they have airport and they have good food  ?(LOL!). Those were the thoughts  that ran through my mind.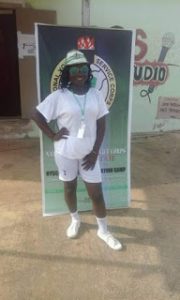 When I realised I had no much time to resume camp as I was to resume the next day I cried as I felt like deferring the posting and resuming with the next batch (batch B) so I could prepare well  but my parents insisted I go  (I don't regret ) which I did. I left on Thursday to camp.
Now let's fast forward the journey part….. After a 12hour drive from Abuja to Yola,  I was exhausted and I just needed to bath, eat and sleep.  Immediately we got into camp we were given accommodation and all I needed for camping. I made new friends even new solider friends  in the camp. My first night in camp was hectic and stressful but God saw me through the next day. As days ran into weeks, even weekends were like weekdays except Sundays.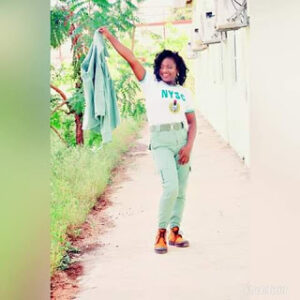 We woke up 3:30am to have our bath and 4am we have to be at  the parade ground and peradventure you are late, then you will have frog jump as punishment.  Since I hated punishment I woke up early to do my duties.  The parade ground was divided into platoons, each platoon had a day for meditation and fellow corpers  select leaders for their platoon.
We had competitions and my platoon  (10) won in  football and volley ball.
After a day or two in camp I joined OBS,  a broadcasting station where I learnt how to be a presenter in a foundational level. I had fun there.
Alright, enough of the story. I wanna list out some things I noticed in camp below which I feel shouldn't be.:
– Young boys and girls who have never met before indulge into sexual relationship.
– people who had fiancé and fiancée at home pretended as if they had no one in their lives.
– Lots of boys and girls were after sex
–  There were people there who were just busy with drugs and alcohol.
– Not all Christian corpers attended NCCF and not all Muslim corpers went to their Islamic meeting.
– Soldiers had girlfriends with corpers.
– There were special NYSC candidate who didn't stay in camp for the 3 weeks.
– Not all corpers took part in the skill acquisition program.
– Each platoon was united and there was no difference either religion or ethnic group.
– There was serious theft in camp
LESSONS
My experience in camp taught me two things which are:  Discipline,  patience and perseverance. I realised that you should be discipline as an individual because you will definitely meet people of different backgrounds in camp who come with different intentions. It will be left for you to control yourself and the environmental influence. Once you aren't disciplined then you would get yourself into big trouble. Also, it only takes patience and perseverance to stand under the sun or rain just as the NYSC anthem says. I learnt perseverance and patience, these are key in standing firm and strong not just in NYSC camp but in life's challenges. Immorality is another evil that is always present and it is viral in camp and its only your acquired discipline and self control that can keep you from immoral people and their acts. With my experience in camp, I thought NYSC is suppose to train youths not just physically but also socially, spiritually, mentally, morally and otherwise. Its so unfortunate that the ills of the society becomes pronounced under the watch of NYSC officials and security agents present in camp. Though NYSC is a camping for adult- youth but alot of abnormalities and immoral acts should be curtailed officials of the camp. Just as I said , there was unity  and peace in all spheres in camp. I saw unity in everything we did  from the beauty pageantry to the football and volley ball  games, nobody cared about your tribe,  religion  nor ethnicity. All we cared about was to achieve a goal. This is the kind of spirit we should have as a nation, Nigeria. We can not grow when we are not united, we can not grow nor develop when we keep talking about religion.
Finally may I say that, My platoon was the best even though we didn't win "best platoon award". We fought,  we settled, we argued and we learned  but above all we triumphed.  My 3weeks experience in camp was enlightening, captivating and Challenging but I made it.
I am Dauda Glorie Shekwosa
Thanks for reading.
Meet her on FB: Dauda Shekwosa Glorie
IG: @daudaglorie
This is a publication of Words in Pen, weekly publication(every Wednesday) of I am Best Magazine…
Are you a writer and you wanna be a contributor to WORDS IN PEN, WhatsApp or call 08130286036 or email: [email protected]