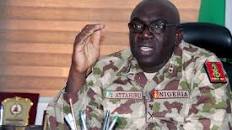 Share this
The recently appointed Chief of Army Staff, General Ibrahim Atahiru has died in a plane crash. Although details of the incident are still sketchy and not clear yet.
According to Airforce media page; "An air crash involving a @NigAirForce aircraft occurred this evening near the Kaduna International Airport. The immediate cause of the crash is still being ascertained. More details to follow soon,"
This was signedby Edward Gabkwet, the force's Director of Public Relations and Information.
According to news, General Atahiru and his wife were on the same Airforce plane that crashed today Friday 21st May 2021.