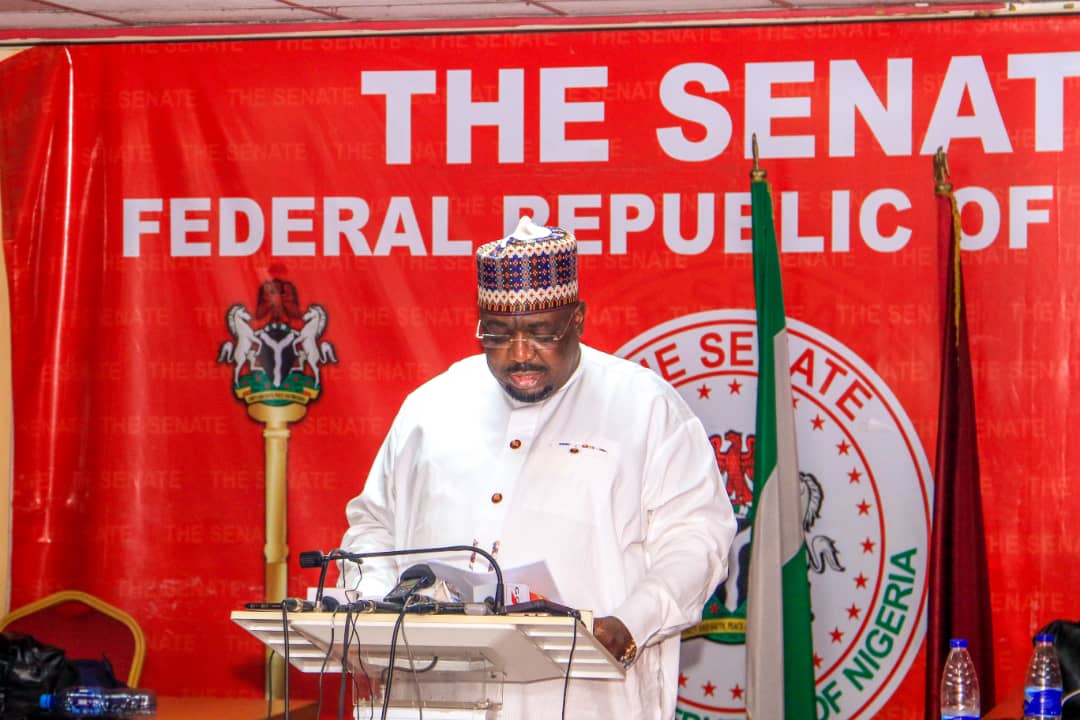 Share this
Senator Philip Aduda representing the FCT in a press briefing on Thursday 16th March said the FCT is supposed to be treated like a state. The Abuja Senator revealed some of the projects and bills he has sponsored. Addressing the 2023 General Elections which he lost to Ireti of the Labour Party, he said he was going to use every legal means to address the situation. Read the press release below:
BEING A PRESS ADDRESS BYSENATOR PHILIP TANIMU ADUDA, SENATE MINORITY LEADER ON 16TH MARCH, 2023
Gentlemen of the Press
I want to use this opportunity to address some fundamental issues as it concerns the good people of the FCT.
That while other Nigerians will be going to their respective states on Saturday to elect their governors and state houses of assembly members, the FCT people will be at home watching them.
This wouldn't have been so if the federal government had yielded to calls for the democratization and second tier government for the people of the FCT.
Over the years, we have made concerted calls and pursued the institution of a second tier government in the FCT so as to address injustices as this but to our surprises, there are still some people who feel that It is not an injustice and this disenfranchisement of the people of the FCT should continue unabated.
The advocacy for the democratization of the FCT & institution of second tier government has been a call for the improvement of political leadership in the FCT & to cater for the seeming population influx into the city.
But we are praying that; the judgement of the court of appeal delivered in January 2018 and the recent interpretation and judgement of the supreme court describing the status of the FCT as a state be implemented the federal government.
The people of the FCT ought to be treated as an integral part of the nation byallowing them to exercise their right to vote and produce their political leaders at that level.
This Concerns form our periodic advocacy for a mayoral status for the FCT. But unfortunately for us, when the Mayoral Status Bill was presented in the floor of the Senate, some senators voted against it probably because I was the only senator among 108 members advocating for such amendment.
Despite the FCT ranking as one of the fastest developing cities around the world and naturally ought to be conferred with such status, just like New York City in the US and London in the UK. Again, that will go down , as another lost opportunity, to make a meaningful impact on the lives of the indigenes and residents of the FCT.
Furthermore, We didn't just stop at advocacy and lobbying for constitutional amendments, we have also made unprecedented achievement in the history of National Assembly representation in the FCT, from sponsorship and passage of critical bills such as: –
• Federal Capital Territory College of Education Bill.
• Federal Capital Territory Area Councils (Administration & Political Structure) Bill
• Abuja Metropolitan Management Council, Bill
• Federal Capital Territory University of Science & Technology Abaji, Bill.
• Federal Capital Territory Hospital Management Board Bill
• Federal Capital Territory water Board Bill.
• Federal Capital Territory Transport Authority Bill
• FCT Civil Service Commission Bill.
• Federal Capital Territory College of Nursing and Midwifery bill.
• FCT Health Insurance agency Bill
• FCT Primary Health Care Board Bill.
• Establishment of Federal Polytechnic Orozo, Abuja Bill
• Proposal for the establishment of FCT College of Agriculture, Rubochi Bill
• Proposal for the establishment of FCT College of Health, Kwali Bill.
PHYSICAL INFRASTRUCTURAL CONSTRUCTION
We have also made giant strides in infrastructures such as: –
Provision of classrooms
Primary Health Care centers
Provision of portable water
-Provision of Rural electrification
Construction of roads across the area councils in the FCT.
Small & Medium Scale empowerment programmes and Provision of student bursary to over three thousand (3,000) beneficiaries drawn across the sixty two (62) electoral wards of the six (6) Area Councils.
Currently, we have: –
An ongoing construction of Shadadi road, Kuje Area Council
Pai road construction, Kwali Area Council
Byazhin road construction, Bwari Area Council
Gbazango road construction, Bwari Area Council
VIO-Police Station-Hospital Road construction Nyanya, AMAC
Ongoing construction of Youth & Sport center at Jikowyi, AMAC
The Gwagwalada Sport & Civic center Kaida
Community road construction in Yaba, Abaji Area Council
Kurudu road construction, AMAC
Jikwoyi road construction, AMAC
Karu Town Hall project, AMAC
BWARI Town Hall project
Agwan Dadi road construction Nyanya,
AMAC
Gbagalape road construction Nyanya, AMAC
Construction of Sabon Gari – Technology village, Bwari Area Council
Agwan Dodo road construction, Gwagwalada Area Council
Rehabilitation of Kubwa Guinness Junction road, Bwari Area Council
Kilankwa road construction, Kwali Area Council
Tunga maje township road construction, Gwagwalada Area Council
Road construction in Abaji town.
We have changed the dynamics of administration through unprecedented leadership in the FCT? I have constantly also put the issues of Youth and Women inclusion in my administrative style on the front burner, which largely reflects on my various programmes of empowerment, and it's visible in my appointments of my aides, which cuts across all kinds of people irrespective of tribe, ethnicity and religion.
Not forgetting also that at 52 years of age, there couldn't have been a more vibrant and resilient character as myself as symbol of youth representation.
Because of our antecedent in politics, our works have earned us reelection for 3 consecutive tenures at the National Assembly, not Sharp practices but premised solely on Competence, Character, Credibility, Performance and proven Track records. I became a Councillor in 1996 at the age of 26, and later became a Supervisory councillor in AMAC at 32, all these were before my foray into the National Assembly where I gained very valuable experience having also humbly risen to become the Senate Minority Leader, making me a Principal Officer of the National Assembly.
However, it is unfortunate that some people have allowed their emotions to becloud their judgement of our performance and theremisleading the public with cheap utterances wrapped with ignorance even when it is clear that some of them are coming to public prominence through the glory of their principals.
But for the sake of the records we have set in the FCT, we won't join issues with such people even in electioneering and we will never do because we are too preoccupied working for the people of the FCT and for that, We want to urge the people of the FCT to keep faith in our abilities and continue to give us the support to build an FCT devoid of tribe, ethnicity or religious affiliation.
Though the 2023 senatorial elections came with its challenges and concerns that we hope to address legally, we strongly believe that with your continuous support and prayers for a better FCT under our leadership, we will come out stronger. The faith to continue the struggle has come from the famous quote of Franklin D Roosevelt that; "Courage is not the absence of fear, but the belief that there is something more than fear"
In conclusion, we are absolutely resolute about our committed leadership in the FCT like never before and we will continue to give the people of the FCT the reassuring confidence like we have done over the years to achieve a peaceful and prosperous FCT of our dream.
Longlive FCT
Longlive Federal Republic of Nigeria
Thank you!
Senator Philip Tanimu Aduda mfr