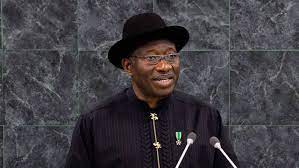 Share this
Former President Goodluck Jonathan has disclosed that he never wanted to be Vice President when he was chosen to contest alongside the late Musa Yar'Aduain in 2007.
According to him, he wept when he was picked his party to run, however he had to take it as his destiny.
Jonathan stated this when he paid a condolence visit to governor Douye Diri of Bayelsa State over the death of his father at Sampou Community in Kolokuma/Opokuma Local Government Area of the state.
"As a leader in the country who had the privilege of serving at the state level and national level, I can only advise that politics is not about that you must be there. If God wants you to be there, you will be there. If it is not yet your turn to be there, you will not be there. When I became a vice president I almost cried, I never wanted to, but that was my destiny and I had to move.

So, I advise people who are interested in these offices and their supporters to conduct themselves very well. They want to serve us, not to serve themselves.

I always tell people that if you are so ambitious, then go into business. If you want to be in the state assembly and people don't want you, fine, go and sleep. You want to be a governor and people don't want you, go and sleep or do business. But if you want to serve us as people then you must be humble and you will not kill us before you serve us. So, people must conduct themselves peacefully and if God wants them to win their elections, they will win their elections," Jonathan said