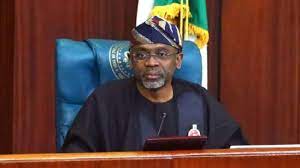 Share this
The Speaker of the House of Representatives, Femi Gbajabiamila, has said that the just concluded presidential and National Assembly elections were mainly about ethnicity and religion, rather than performance.
Gbajabiamila stated this when members of the House of Representatives Press Corps led its Chairman, Grace Ike, visited him in his office.
According to him, many of the lawmakers who were previously in the house were ''unlucky' as the electorates voted based on ethnicity and religion rather than the performance of the lawmakers in the house and in their constituencies.
"It was a hard-won battle not just for me, but for many of our colleagues on the floor there. All 360 of us. Many were unlucky. Some were lucky. I used the word 'lucky' deliberately because this election was not as it should be, not so much about the performance of members whether on the floor or in their constituencies. It was about a lot of other things. It was about religion. It was about ethnicity.

It was about so many other things which I hope that as we develop as a nation, one's election would be based solely, or at least mostly on his or her performance on the floor and in the constituency. That is what I hope would happen as we move along and that is why he mentioned the Electoral Act that was just passed. That is why I fought tooth and nail to make sure the Electoral Act adopted strictly the direct mode for primaries because of elections. So we lost a lot of legislators even at the primaries level, and that does not help our democracy.

So hopefully moving forward, we would perfect that document, the Electoral Act, which many people have celebrated but still not perfect yet.

Hopefully we would be able to perfect it. So I thank you profusely for all the support you have given us, myself, the leadership and the House. Over the years, the last four years, you are part of this institution and I have enjoyed working with. I would continue to enjoy working with you. As many of you know, I would probably be a floor member now, which is how our democracy works.

But being a floor member is not about what position you occupy but it is about what you contribute to law making and governance and I will continue to do that irrespective of wherever I find myself."he said