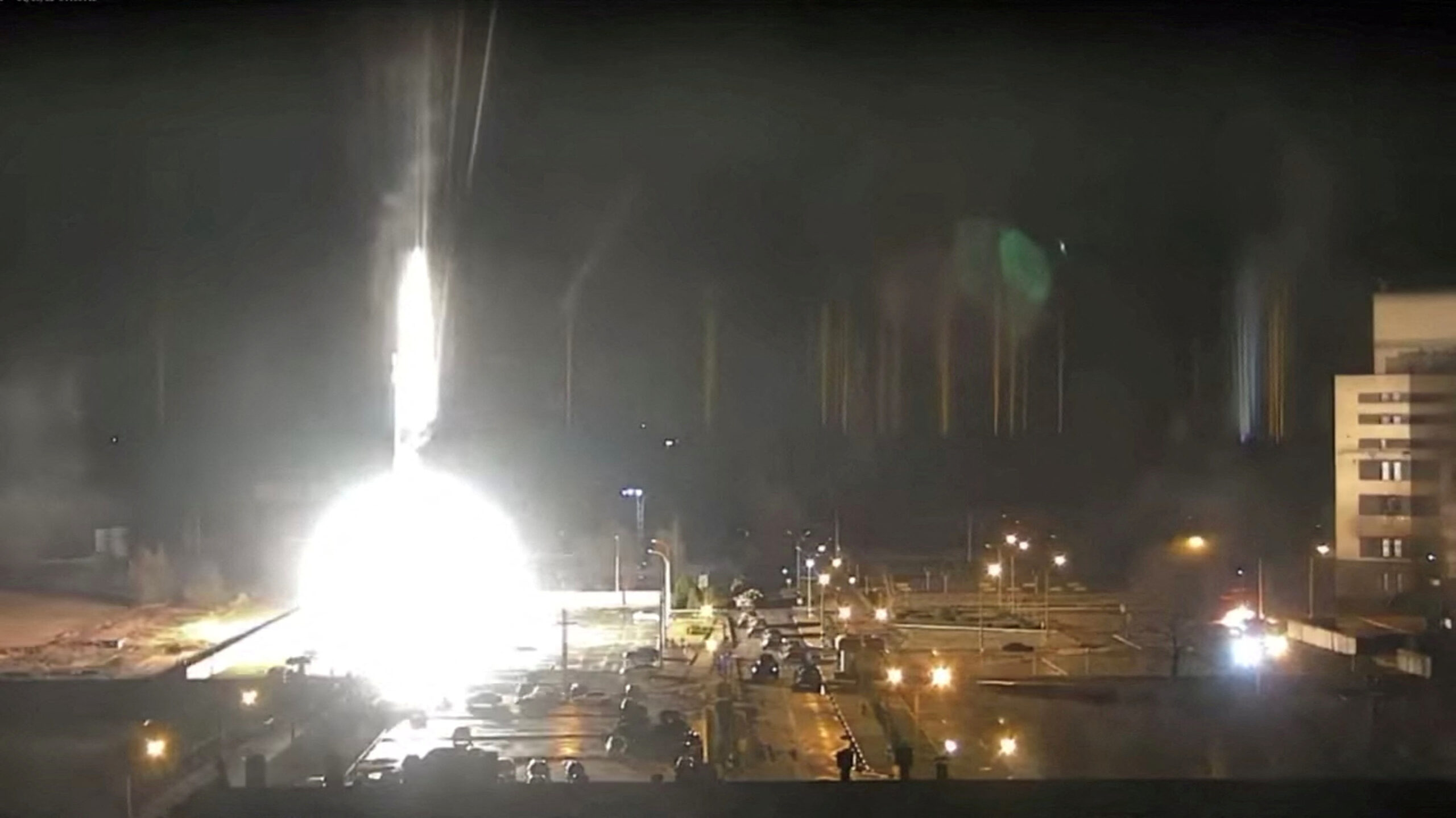 Share this
Russian troops have seized Europe's largest nuclear power plant after it was shelled overnight, sparking a fire but no release of radioactive material, the UN's atomic watchdog has said.
The attack on the southeastern city of Enerhodar and its Zaporizhzhia nuclear plant had led to fears of a nuclear disaster and immediate condemnation from world leaders, with EU and NATO foreign ministers considering fresh sanctions.
Three Ukrainian troops were killed and two wounded in the assault, according to the Ukrainian state nuclear company.
Rafael Mariano Grossi, director-general of the International Atomic Energy Agency (IAEA), said a training centre that was not part of the reactor was hit bya Russian "projectile" and two security personnel were injured in the subsequent blaze which was later put out byfirefighters.
"All the safety systems of the six reactors at the plant were not affected at all and there has been no release of radioactive material," he said, adding that the Ukrainians were still running operations but the situation remains unstable, with Russian forces in control of the overall site.
The U.S. Embassy in Kyiv said that "it is a war crime to attack a nuclear power plant," following reports that Russians have seized the Zaporizhzhia facility.
"Putin's shelling of Europe's largest nuclear plant takes his reign of terror one step further," the Embassy said.
The fire at the plant reportedly has been extinguished, after the pictures of flames coming from the facility raised grace concerns of a nuclear disaster.
Mariupol is still being bombarded with artillery fire, and Kherson,  strategically located in the south at the mouth of the Dnieper River's exit into the Black Sea – remains under siege as the first major city the Russians say they control.
And while the huge Russian military convoy north of Kyiv has stalled, analysts believe a major assault on the port city of Odessa might soon begin.
The IAEA said the fire has not affected essential equipment or caused radiation levels to change, while US officials have also stressed reactors at Zaporizhzhia power station are protected byrobust containment measures, and were safely shut down.
There is only one reactor operating, at 60% of its capacity, Mr. Grossi confirmed.
Ukrainian officials had earlier said there was a "real threat of nuclear danger", with foreign minister Dmytro Kuleba warning: "If it blows up, it will be 10 times larger than Chernobyl. "