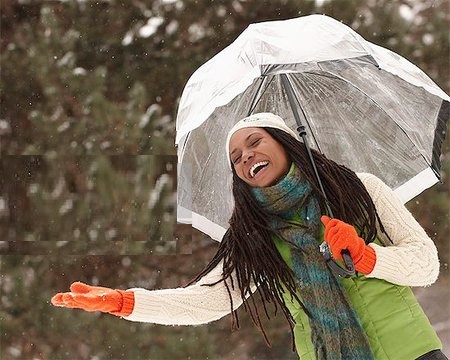 Share this

Its a beautiful rainy Friday and its a day for our special segment – WEEKEND COUTURE. In Weekend Couture every Friday, we discuss and showcase fashion and design, photography, make-up and also modelling.
On WEEKEND COUTURE today we will share with you how to dress or what to wear during raining seasons especially in Nigeria environment. Read article below:
There are few things worse than getting caught in the rain without notice. Hopping around in soggy socks, muddy shoes and drenched clothes can put a damper on what should be a bright day.
Although rain can be incredibly challenging to dress for in a country like Nigeria where summer clothing stay in fashion all-year-long, there are tips for getting that simple, smart rainy day look. Check out some fantastic nuggets on dressing stress-free for the next downpour.
Keep it sturdy in dark colours 
At this time of the year, wearing white shoes may not be the best choice. To stay clean all day, pair darker coloured pants with shirts or dresses. Go for black, as it will show little signs of debris. Long-sleeved outfits and lightweight sweaters in quick-to-dry materials should also be a frequent choice, especially when living in a city like Lagos where the cloud turns dark at the snap of a finger.

Stay dry in longer jackets
Ever been walking in the rain and seen a car splatter water on everyone using the side walk? Upsetting right? Exactly! While the umbrella can fend some of the rain away, it can't cover the entire body, so try a jacket for full protection. Since classic trench coats are not popular this side of the Atlantic, a trendy mid-thigh jacket will shield the body just fine.
Wear comfortable boots
Traditional rain boots can look a little awkward on the streets of Nigeria especially as rubber does not breathe as well as other materials such as leather and can leave your feet feeling smelly. However, it helps to stick to covered shoe-styles that are short and sleek to keep the feet out of puddles.
If well selected, accessories can be a lifesaver on a wet day. Trade in soft leather handbags for an all-weather nylon-based satchel, invest in a strong umbrella and tone-down the number of metal jewelry to prevent them from rusting quickly.
Credit:Photos and article by 
Jumia Travel – travel.jumia.com
WEEKEND COUTURE is a fashion, style, photography, make-up and modeling weekend segment on I AM BEST MAGAZINE(online) exclusive on Iambestnetworks that showcases all forms and kinds of fashion and styles, make-up, modelling and photography that are trending put together different designers, models, make-up artists and photographers.
This is showcased every Friday and every fashion designer, photograoher and model can be part of this.
So if you are a fashion designer,  a model, make-up artist or a photographer  and you wanna showcase what you do; also for advert placement contact Iambestnetworks via: 
Call or WhatsApp: 08130286036 or 07057467203. 
 Email: [email protected]
Instagram: @iambestnetworks
Courtesy of : Iambestnetworks