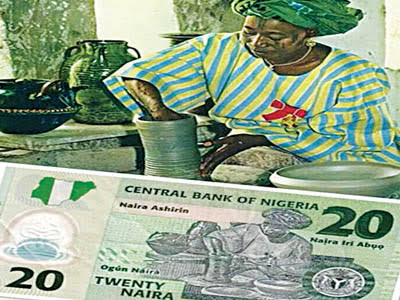 Share this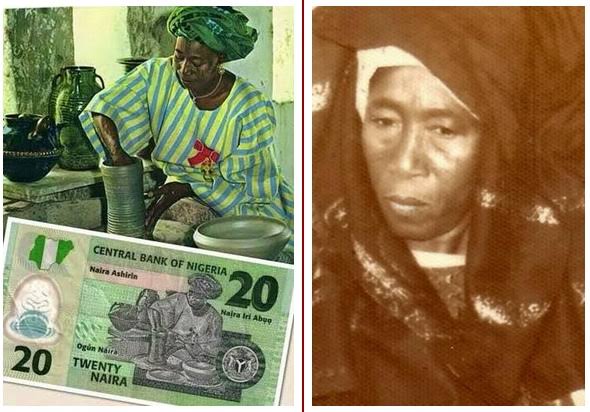 From time immemorial, Nigerian currencies have always had the faces of prominent Nigerian leaders and politicians who have made a positive mark.
The N1000 note has the faces of Aliyu Mai-Bornu and Clement Isong, the N500 has the face of Nnamdi Azikiwe, N200 has  Ahmadu Bello, N100 has Obafemi Awolowo, while the N50 has faces that represent Nigerian citizens(fulanis) as well as a farmer. The 10 Naira note has the face of Alvan Ikoku and the 5 Naira has the face of Tafawa Balewa. I am sure you may be wondering how about the N20 note?
Well, the 20 Naira note which is the mint green note has two notable Nigerian citizens on it. The front of the note has Former Head of State, General Murtala Muhammed, while the back bears renowned Nigerian potter, Ladi Kwali.

This week on Words in Pen on I Am Best Magazine exclusive on IAMBESTNETWORKS, we bring to you the "Early life, 12 facts about the female face on 20 naira note, Ladi Kwali and her achievements."



THE EARLY LIFE OF LADI KWALI
Hajiya(Dr) Ladi Kwali was born in 1925  though other historians indicate her date of birth as 1920(this is still controversial). Her place of birth is called Kwali which is the present Kwali Area Council of FCT Abuja. Ladi Kwali's younger brother Mallam Mekaniki
Kyebese once said that:
"even in the early years of pottery making, Ladi kwali excelled in the crafts and her wares were often sold even before they were taken to the
markets".

History have it that her immediate family members were so much into Pottery and other art/craft activities.
Her works were largely influenced byGbagyi cultural values and beliefs.
HERE ARE 12 FACTS ABOUT LADI KWALI THE WOMAN ON N20(TWENTY NAIRA)NOTE: 
1.)  Dr. Ladi Kwali a Gbari woman(GwarinKwa) some say she is Gbagyi born in Kwali. "Ladi" means "Sunday" while her surname "Kwali" is the name of her village in which she was born.
2.) Ladi Kwali's several works of pottery were acquired the Emir of Abuja back then among others.
3.) Ladi learnt some skills with her aunt. She also learned the traditional art of pottery using a method referred to as "coiling and pinching".
4.) History have it that Ladi came into Suleja( Niger State) – Abuja with knowledge of traditional Gwari or Gbari pottery. So she made symbolic and figurative patterned pots of different shapes and sizes using her natural ability to throw clay with her hands.
5.) As time passed, Ladi  attended Michael Cardew's Pottery Training Centre Abuja and we are told that she made some items (dishes, bowls, and beakers ) with graffito decorations glazed in a high-temperature kiln.
6.) Between 1950 and early 1960s, her works were shown to great acclaim in London at the Berkeley Galleries. This is to say her works became popular in both UK and America.
7.) Ladi Kwali's works were displayed during Nigeria's independence celebration in 1960.8.) Did you know that Ladi Kwali though she couldn't read nor write yet, she gave lectures and demonstrations on her craft in Nigeria and beyond even before 1960.
9.) Added to this,  she was a part-time lecturer and demonstrator at the Ahmadu Bello University(ABU Zaria).
10.) In the world of art and craft especially pottery, She left a very rich and heavy legacy of her works, which are icons of modern art in Nigeria. Her works her taught in schools and also at the Abuja Pottery Training Centre.
11.)  Before she died, she was the best known Nigerian potter. She died in Minna of Niger State on the 12th of August 1984.
12.) Her works still live even till today.
HER AWARDS AND ACHIEVEMENT
Till today, famous Ladi kwali is the only Nigerian woman who has been featured on a currency note – twenty naira note.
 Ladi Kwali was awarded a doctorate degree the Ahmadu Bello University of Zaria in 1977 and that is why she is addressed as Doctor(not medical ). Its important to note that as a Nigerian, She was a Member of the Most Excellent Order of the British Empire (MBE). In Nigeria She also received the national honour of the Officer of the Order of the Niger (OON) in 1981. Because of her enthusiasm to share her tour experience, she was named  "Radio London".  Dr. Ladi Kwali was given the Silver Award for Excellence, Tenth International Exhibition of Ceramic Art, Smithsonian Institute, Washington DC. Another historical award and achievement is, The Abuja Pottery was renamed the Ladi Kwali Pottery and a major street in Abuja is called Ladi Kwali Road. To add to this, in Transcorp Hilton, there is a hall named after her. According to reports, a sculpture of Ladi Kwali is being done by Nigerian sculptor, Ambrose Diala; it is to be erected in front of the Federal Secretariat, Abuja on completion.
Compiled SHEDY ELISHA
Connect with him via Instagram and Twitter as: @shedyelisha
FB: Shedy Elisha
This is a publication of Words in Pen, weekly publication(every Wednesday) of I am Best Magazine…
Are you a writer and you wanna be a contributor to WORDS IN PEN, WhatsApp or call 08130286036 or email: [email protected]