Share this
The most anticipated online magazine "Get Inspired" is out and available for download.
GET INSPIRED is an online magazine project of IAMBEST ONLINE MAGAZINE exclusively IAMBESTNETWORKS LTD. This magazine is centered on inspiring both young and old, male and female to become better and do better in life.
The contributors to this magazine are professionals from their own various fields and discipline. Topics in this magazine include but not limited to business, relationship, marriage, leadership, religion, ethnicity, finance, politics and entertainment (Poem & Top 10 most outstanding Abuja Music Artists). #GetInspired Magazine is available at an affordable rate, just N500 (five hundred naira) only.
CLICK HERE TO PAY AND MAKE YOUR DOWNLOD OF #GETINSPIRED OF IAMBEST ONLINE MAGAZINE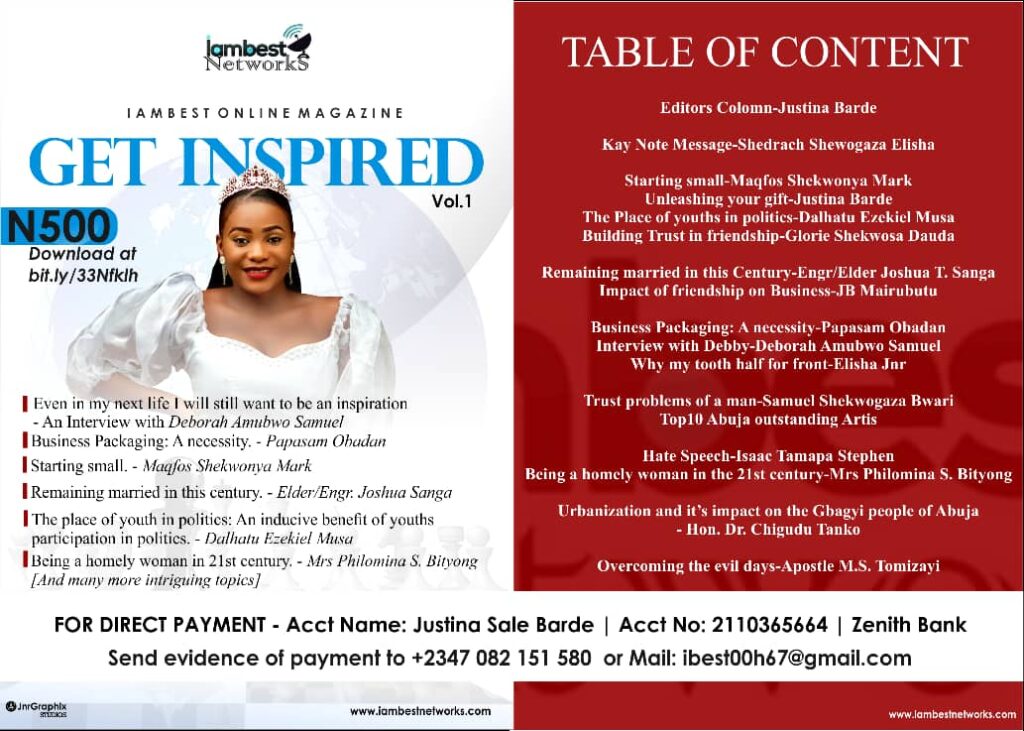 For direct/offline payment, pay to our Editor:
AccountName: Justina Sale Barde
Account number: 2110365664
Zenith Bank
Send evidence of payment to +2347082151580 or email: [email protected] and you will receive your copy of Get Inspired immediately.

GET INSPIRED OF IAMBEST ONLINE MAGAZINE IS A PROPERTY OF IAMBESTNETWORKS LTD AND MUST NOT BE REPRODUCED OR PRINTED IN ANY OTHER FORM FOR ANY REASON WITHOUT WRITTEN PERMISSION FROM IAMBESTNETWORKS LTD