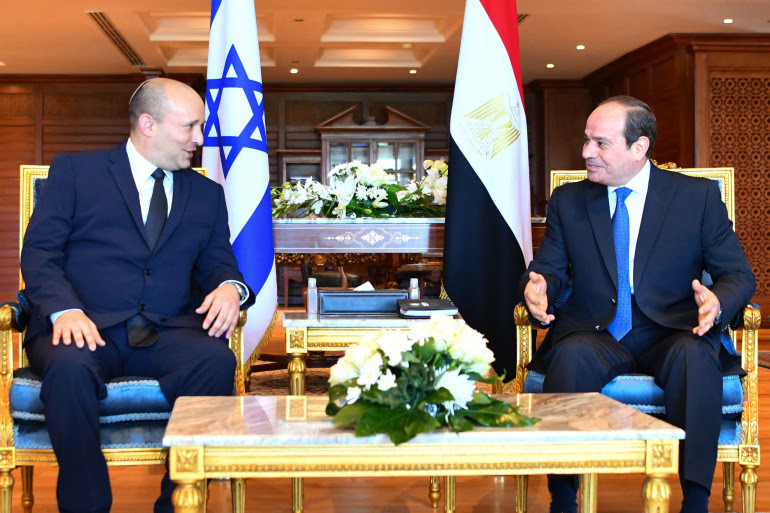 Share this
Israeli Prime Minister Naftali Bennett met Egyptian President Abdel Fattah el-Sisi for talks expected to address the Israeli-Palestinian conflict in a landmark meeting – the first official trip an Israeli leader to Egypt in a decade.
Bennett, the head of the far-left Yamina party who took office in June, met the Egyptian president on Monday, September 13, in the Red Sea resort of Sharm el-Sheikh on the southern tip of the Sinai peninsula.
The discussions are expected to address "ways and efforts to revive the peace process" between Israel and Palestine, Egypt's presidency said in a statement.
Bennett and el-Sisi are also expected to discuss regional issues, including Iran's influence in the Middle East and the crisis in Lebanon, the Israeli government has said.
Bennett's predecessor, Benjamin Netanyahu, was the last Israeli prime minister to make an official visit to Egypt in 2011 while the late Hosni Mubarak was president .
The war like situation in the Gaza Strip is likely to be at the top of Monday's agenda.
Israel, with Egypt's help, has maintained a tight blockade over Gaza since the Palestinian group Hamas began governing the territory in 2007.
In 1979, Egypt became the first Arab country to sign a peace treaty with Israel.
In 2020, Donald Trump ensured Israel signed peace deals with Bahrain, Jordan and the UAE known as the Abraham Accords.